You've already done all your keyword research, you've structured your content around your main topics, your outline is ready to go and… Now you actually have to write.
It's hard, isn't it? Sometimes you get so caught up in the planning process that the actual writing seems like a monumental task.
Thankfully, we live in the day and age of web apps and online tools built to facilitate every aspect of our daily lives. So when it comes to content writing – yes, there's an app for that.
Content Writing Apps to Make Your Life Easier
There are some common roadblocks every copywriter can fall into when writing your next "viral blog post" (can we all just stop using the word viral? Please??). Here's is a list of 5 apps our digital copywriting team at Alphametic have used in our content writing process to help us churn out some kick @** content that got us mentions on sites like Forbes, Inc Magazine, and Entrepreneur. We also use the same apps in our content writing process for our clients and blogs.

I'm sure many of you used this tool before – but it's always worth mentioning because it's so dang awesome! It's like having a second pair of eyes on your work (but not in the scary head-editor-looking-over-your-shoulder kind of way, but more in the you-asked-your-smart-friend-to-look-over-this-paper-right-quick kind of way).
You can add the Grammarly extension on chrome and it'll check almost everything you type into your browser, not to mention your emails in Gmail.
In fact, I'm using Grammarly right now to check this sentence! FYI – if there's a mistake, it's not Grammarly's fault, it's most likely because I'm on my 4th coffee refill and it's only 11 am (help).
Unique Features:
Advanced spell checking capabilities

Understands context to a certain degree

Can be installed on windows, Office 365 and Chrome

Can also be used to spell check emails in Outlook (yay!)

Has a free plan with the option of premium
Platforms:
Windows

Mac

Android Devices

iOS Devices
No, this tool doesn't help time your pasta to a perfect Al Dente (unfortunately), it's actually an online application that allows you to use the famous Pomodoro Time Method in an automated way – while also allowing you to customize a sequence of timers.  
If you are the type of person, like myself, who has to take their eyeballs off the screen every once in awhile to maintain brain cells, then this is a great tool. You can use the productivity-boosting Pomodoro method timer or personalize your break times/ work times in the custom timer to match your workflow.
If you know how much time Al Dente pasta takes to reach perfection, then you can definitely use this timer for that task as well.
Unique Features:
Personalized timer to match your workflow

A pre-set Pomodoro timer

Straight on your browser, no need to download anything
Platforms:
Sometimes you're typing away furiously on your keyboard and you don't stop. You can't. The ideas are fresh and flowing – you can't stop the creativity rushing out of you!
And then you look up and you wrote the whole thing in All Caps. It's the worst.
When such indiscretions happen, I go straight to Convertcase and dump the whole bit of text into its free tool. Next thing you know my writing goes from SCREAMING AT THE TOP OF MY LUNGS to normal human volume in a second.
It also gives you different capitalization options, which is the part I find most useful. You can use "Sentence case" which is typical, or you can choose "Capitalization Case" which capitalizes the sentence as if it's a headline of an article. It's also got a few funky options as well if you want to have some fun with it!
Unique Features:
Plethora of options for capitalization

Different language options

Free to use
Platforms: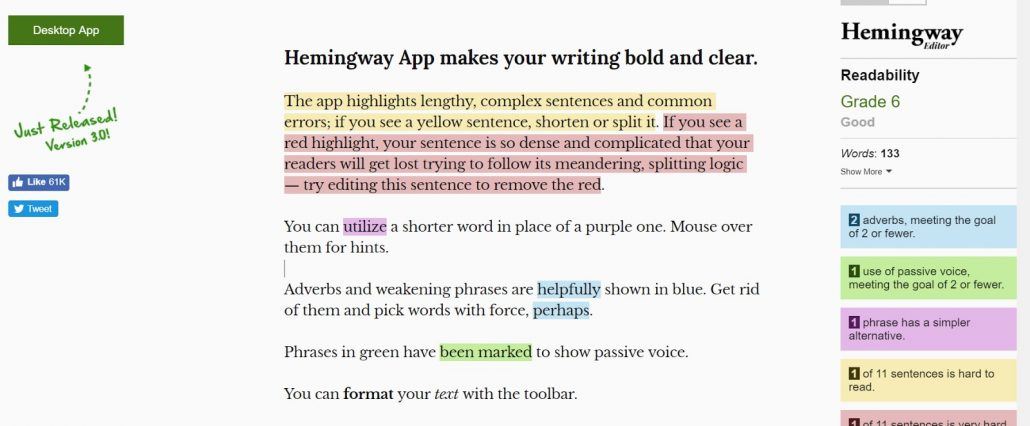 If you're like me – you write the way you speak. You yap and yap and there's no stopping you. Thankfully, our dear late Hemingway did not have that problem. This app takes a page out of his book to teach us lesser beings how to be concise.
"Short and to the point" text is becoming increasingly more important as people's attention spans get shorter and shorter. If there's a simpler way to say something, this app will catch it. It has an automatic setting that warns you if you're using too many adverbs or if you're using passive voice.
Although not perfect, it's a good tool to keep you in check when you know you have a tendency to ramble or just want to stay concise.
Unique Features:
Discourages rambling and run-ons

Simple interface

Named after an awesome author
Platforms: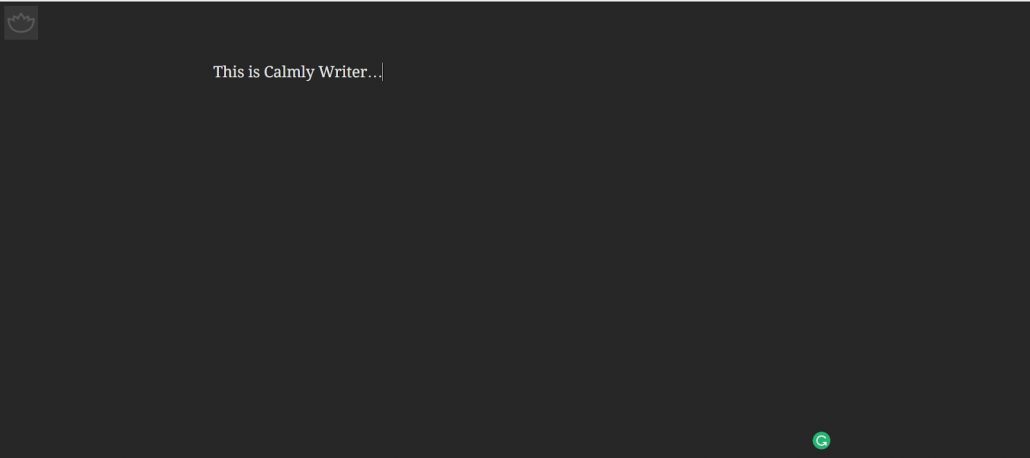 Sometimes your biggest obstacles are distractions. Your dog is barking. Someone passed by you with a delicious, aromatic coffee and now you can't stop thinking about it. Whatever your distraction is, Calmly Writer seeks to combat these nuisances through it's clean, distraction-free interface.
It offers simple formatting options and takes away all the bells and whistles so you're left with what matters – the text. My favorite feature is the optional typewriter sound so you can pretend you're locked away in a cabin writing the novel of the century.
Unique Features:
Simple interface

Option of white on black text

Optional typewriting sound
Platforms:
Well, there you have it, folks. These have been the tools that have accompanied me throughout all my copywriting endeavors to help me get a little better with my words. Whether you're a novice content creator, a brooding novelist, or a time-worn copywriter – I hope these tools make your process a little easier!
At Alphametic, we take content seriously. And keywords. Want to learn how we combine the two? Check out our digital copywriting page.
Matthew Capala is a seasoned digital marketing executive, founder/CEO of Alphametic, a Miami-based digital marketing agency, author of "The Psychology of a Website," dynamic speaker, and entrepreneur.
https://alphametic.com/wp-content/uploads/2018/01/frustrated-man-on-computer-1.jpg
2974
4460
Matthew Capala
https://alphametic.com/wp-content/uploads/2021/01/Alphametic-Logo-Header.png
Matthew Capala
2018-01-12 21:03:16
2020-03-16 19:09:40
5 Content Writing Apps to Improve Your Writing ASAP