9 Must-Know Facts About Performance Max Campaigns
What are Performance Max Campaigns and when should they be utilized?
The world of Google Ads can seem overwhelming in terms of campaigns types and objectives. 
How do you decide whether or not to use a Performance Max campaign when faced with other available campaign types, like Search and Display, for example? There are a few avenues to take, depending on your marketing objectives. 
When you have particular conversion goals, like Leads Acquisition, Online Sales, Store Visits, and Website Visits​​, a Performance Max campaign would fulfill all of these objectives. Also, if you are interested in giving one campaign access to all of Google's advertising channels​​, this type of campaign would certainly suit your objective. 
It is important to note that this type of campaign does not replace a Search campaign. The two should run simultaneously. But a Performance Max campaign can give you more conversions via a higher reach, a greater variety in audience interests and demographics, as well as more creative options than a Search campaign can. 
Timely Solutions To Customers At Scale:
These performance elements can be helpful for seasonal campaigns, for example, like short term ecommerce efforts for Labor Day or Black Friday, which could benefit from higher reach and specific audience selections. Utilizing Performance Max targeting could be key in acquiring a higher volume of conversions in a shorter period of time. More specifically, Gmail, for example, can be instrumental in ad delivery during high volume seasonal efforts. 
Here is a sample ad in its closed and open format.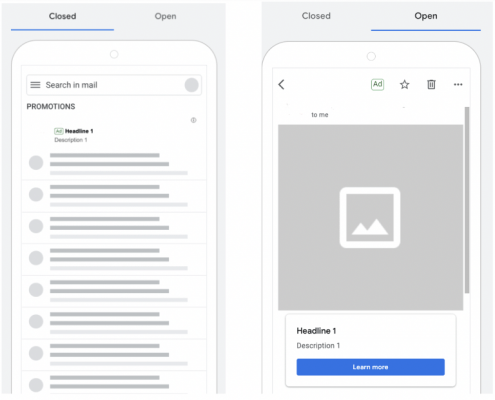 How exactly does a Performance Max campaign work?
Performance Max campaigns are automated, similar to Smart campaigns, and use machine learning to optimize your assets and promote them across different platforms. They also incorporate Audience Signals as well, which include customer data and interests. Demographics also help to further define your target audiences.
What Exactly Are Audience Signals?
Audience Signals add an layer of detail to your Performance Max Asset Group, and include customer data, interests, and demographics 
When adding audience signals to your asset group, you would either add an existing audience or create a new one. You would simply begin by "adding an audience signal" within the asset group editor.


What are audience parameters and how does Google put them to work?
Audience parameters, or Audience Signals are pulled pulled from:
Website Visitor Lists​

App User Lists​

Customer Lists (acquired from subscriptions lists, for ex.)​

Video Viewer Lists
Specifications in demographics are also key to successful Performance Max targeting. They allow you to choose the characteristics of your potential audience.​ Also included in Audience Signals are relevant keywords and URL's that relate to your business objectives.​
These are combined with Google's vast knowledge of user preferences and interests to deliver more reach and conversion potential, as well as helping uncover new and unexpected audience sources to target as your campaign picks up steam.
How Can Google Search Trends Improve The Quality Of My Performance Max Campaign?
Utilizing Google Search Trends and insights based on emerging trends can be very helpful in creating a relevant campaign. More specifically, this platform can aid in choosing appropriate and up and coming terms. The key to success is adaptability to how the dialogue that your advertising objective is framed. Having this information is pivotal in building customized ad copy, for example, and including the most relevant terms.
In terms of creative, how many varieties can be used in this type of campaign? 
Performance Max allows for a great deal of creative flexibility, allowing for 15 images, 5 logos and up to 5 videos. Apart from creative assets, this campaign also allows for 5  Headlines, 5 Long Headlines, and up to 4 Descriptions, which allow Google to find the most successful pairings.​​ 
Finally, choosing the most impactful CTA is key in provoking a click-through from a potential user, and the Performance Max campaign ​gives you flexibility in choosing multiple "Calls to Action" to run.
How can I prevent bidding on Negative Keywords?
The official word on this function is that it is not yet available. However, it is possible to submit a list of negative keywords to your Google representative, who will submit them for approval. If they are approved, they will be added to the campaign on your behalf. 
What kind of campaign insights do Performance Max campaigns provide?
Reporting for this type of campaign highlights results to-date, comparisons to previous periods, as well as future projections in terms of conversions and CPA (cost per acquisition).​ 
Also part of reporting are Auction insights, which reveal your competitors.
Placements are also an important part of reporting functions for Performance Max campaigns.
They can be found via the "Predefined Reports" section from the "Reports" drop down menu. After selecting "Other" and "Performance Max Campaign Placement," a report will open up containing all of the locations (like apps, for ex.) where your ads received impressions for a specific date range.
Matthew Capala is a seasoned digital marketing executive, founder/CEO of Alphametic, a Miami-based digital marketing agency, author of "The Psychology of a Website," dynamic speaker, and entrepreneur.
https://alphametic.com/wp-content/uploads/2022/09/Google-ads-05-same-font-size.png
5000
5000
Matthew Capala
https://alphametic.com/wp-content/uploads/2021/01/Alphametic-Logo-Header.png
Matthew Capala
2022-09-20 15:50:15
2022-10-26 19:03:13
9 Must-Know Facts About Performance Max Campaigns