7 Deadly Sins of Choosing the Wrong SEO Agency That can Cost You (A LOT)
I have been in the search engine optimization game for over a decade now. Clients come to me with one chief objective: to win at Google and crush their online marketing goals. Sounds simple, right? Well, there is more to it.
It takes a very agile SEO Strategy to keep up with Google Trends. It took me years to develop a team of experts, tools, and processes at Alphametic to effectively optimize the SEO, SEM, content, and local campaigns to keep our clients on top of Google. When a new client comes to us, we often spend a good amount of time correcting careless SEO mistakes of the past and see a number of SEO sins from prior agencies that could have been easily avoided. We've worked with clients in the past that experienced an outright penalty from Google because they did not know that the previous agency was buying links on spammy blogs or that the services were outsourced by the agency they worked with to an overseas provider. I also witnessed many prior agencies providing many sound recommendations but they turned out to be "non-actionable" – and as a result, a "non-factor" on performance – because the agency never managed to execute on their ideas.
Choosing the wrong business partner can cost you a lot of wasted time and money. Before you choose your next search marketing agency (hint, hint), read our special report on the dos and don'ts of the selection process and criteria, and don't let these sins affect your business or impact your bottom line.
Sin #1: Bandwidth: Not considering your ability to execute on the best SEO plan on the outset.
Many clients come to us with specific objectives: to set them on the right path in their SEO strategy, analyze their performance gaps, or perform an actionable audit and provide "quick wins" – the 20% of strategies that produce 80% of results. This is the first stage and if this is all your business requires, a consulting project is adequate. However, if you are looking to increase your rankings by creating new (and more) content and building relationships with bloggers, you need much more, and you need to be prepared to invest in content, tech, PR, and outreach at the outset of any SEO project.
Otherwise, make sure that the agency you choose has the capabilities to support you in implementation. At Alphametic, I started with the consulting services and quickly realized that our clients need support in creating content so we brought onboard a talented digital copywriter to help our clients write content on landing pages, creating blog posts and long-form guides.
Today's SEO climate is dynamic, competitive, and highly specialized. Teams that think it is a few keywords to the top are sorely mistaken. If your team does not have the bandwidth to create extra content and strategize effectively and cohesively with your SEO provider, you will commit the first sin – not being able to execute an SEO plan.
Sin #2: Vetting: Not thoroughly background checking your agency.
SEO Agencies and consultants all have capability statements, testimonials, white papers, and client lists to recommend their work and explain their strategies. Reading these materials is the bare minimum of research that should be part of your road to hiring an SEO agency or consultant. Check the references by reaching out to past and current clients to obtain full reviews of their SEO wins. Further, make sure that your agency or consultant knows your business, or has the bandwidth and staff to become experts in your business. Agency or consultants specializing in consumer products may not be the right fit if you are looking to gain placements with service-focused, B2B needs, and vice versa.
Check the references and client testimonials before you commit the second sin of choosing the agency partner that talks the talk… but no track record of walking the walk.
Sin #3: Missing the Point Man: Not Having an Identifiable Team or Point Person
If you actively detach from the process of searching for an SEO agency and instead view the search as a simple sales funnel, you miss an opportunity to gain insight into how a reputable agency should acquire new business. Depending on how you find your SEO agency (referral, online, or direct) you will deal with a leadership team in sales, often the founder of the agency like we do it at Alphametic. You may be very happy with the sales pitch and the level of skills the SEO pros are pitching you… but will they actually work on your business or meet with you when the work begins?
Make sure that you understand who exactly will work on your business and who is just selling you. During the sales process, you should meet your "account team" and make sure that there is the right chemistry between your team and your daily agency contacts. Your needs may require just one person, or it may require a combination of skills. However, it is critical for streamlining work and keeping communication clear that you have a point of contact at your agency you can trust. Otherwise, you are missing the point, man!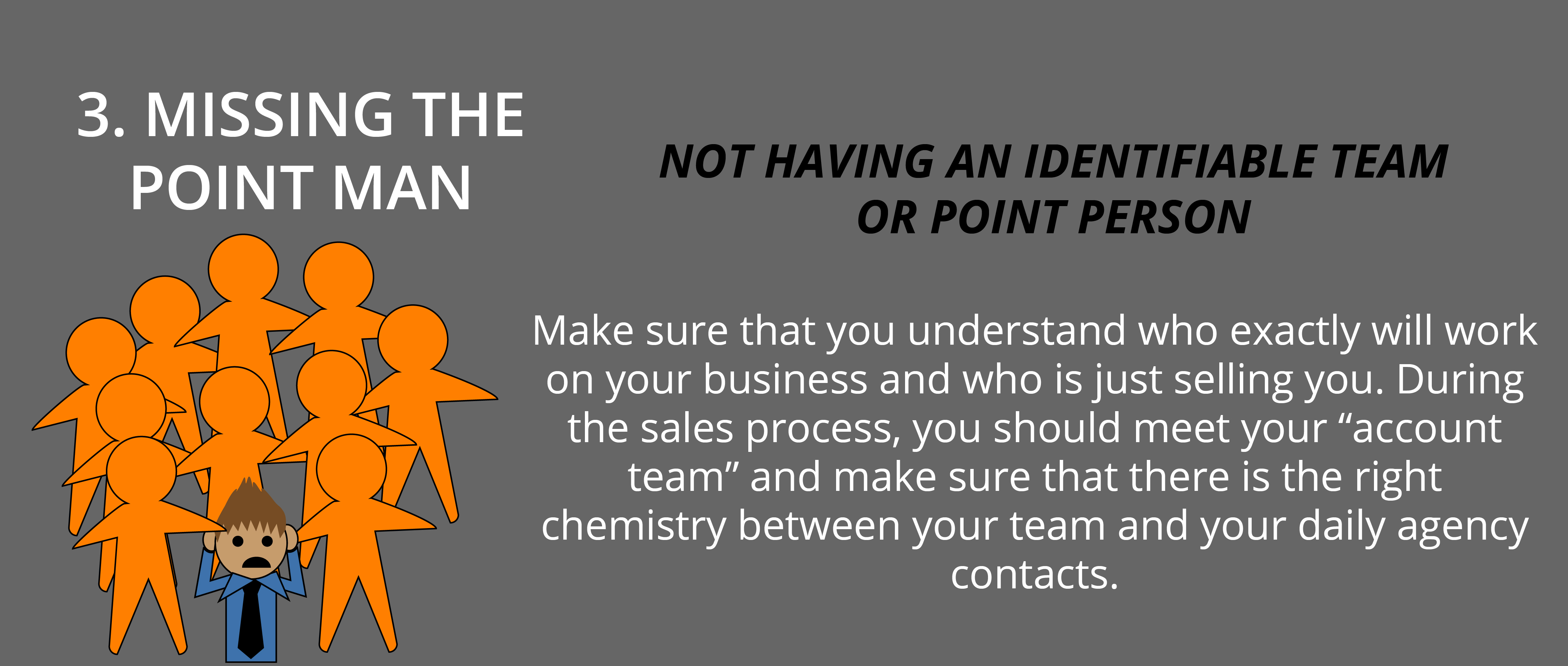 Sin #4: No Numbers: Not Setting Clear Goals
Quantifiable metrics are the key to success. If you have not set a goal in SEO metrics, you should not be in the market for an SEO agency. Whether they are percentage increase monthly or annual goals, engagement, or conversion, these benchmarks are motivation for an agency, in addition to being integral for your agency to assign team members to accomplish them. With goals and timelines, comes accountability. It is the fourth sin for the client and agency relationships to not assign goals because the chain of accountability starts at the goal set by the respective teams. Outline your goals and observe them at intervals.
Sin #5: SEO is your Savior: SEO Cannot Solve all of Your Problems
Your SEO Agency is not going to solve all of your problems, make your product a success, make your sales team convert more phone calls, and sadly, we are not magicians either. Your agency should show up for you and provide the tools, customer service, creative content, winning ideas, and organized communication to supplement your team. However, the agency needs a point of contact on your team to grow your business. An SEO Agency should develop an intimate understanding of your business as your work progresses, with the development and implementation of keywords. However, they will need guidance on the personas and micro markets you are looking to target, among other strategies.
If you have a product or service that does not have a natural client base or does not service a need, then you should likely refine your business model before you hire an agency or a consultant.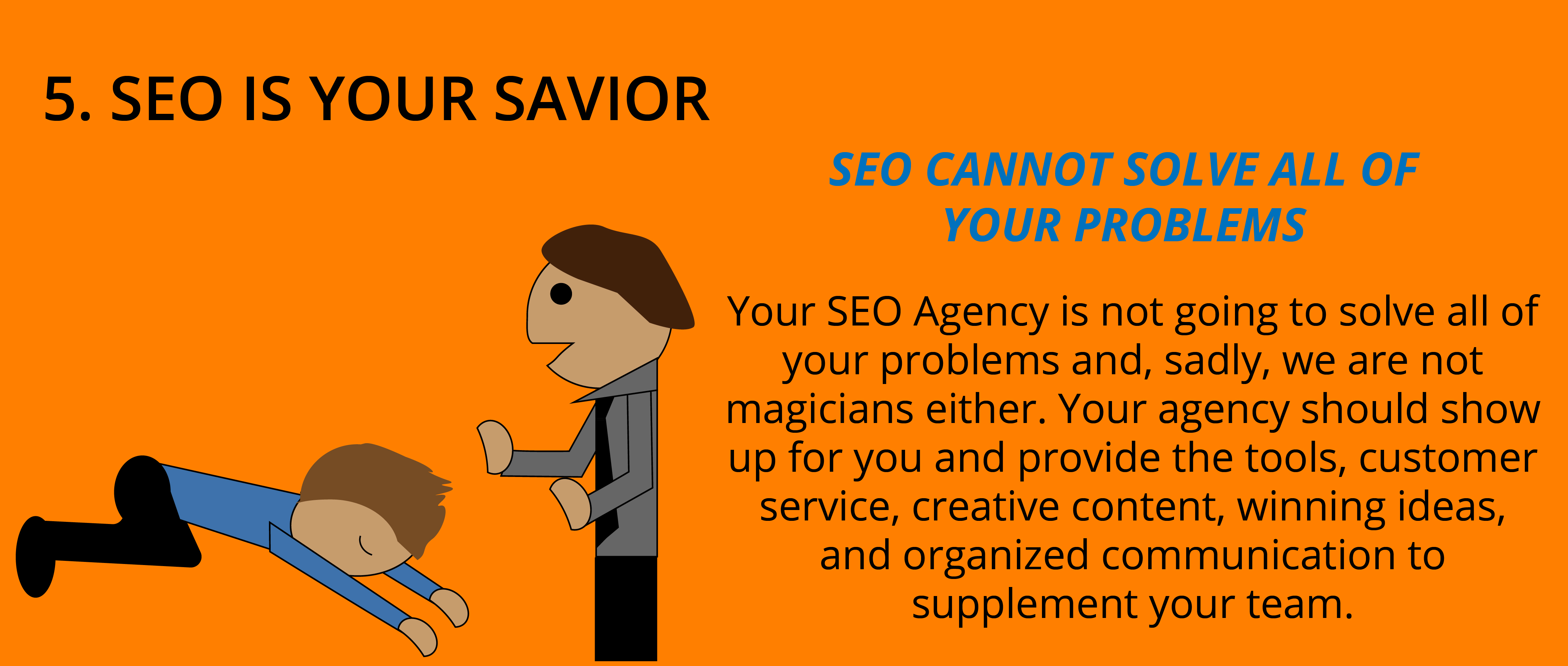 Sin #6: SEO What?: Not Gaining a Basic Channel Understanding
Lots of people think SEO is like a sausage they all love to eat, but they don't want to know how it's made. If you are hiring an SEO company blindly after seeing an online ad and without a working knowledge of what SEO is and what's involved, you cannot expect to make an educated decision. Some SEO shops will promise you the la-la land, outsource all the work, and bank on the client's lack of any technical knowledge to keep accountable.  Organic SEO driven unique content, strategic keywords, and real links takes time, but the realized gains are never penalized. Ask questions about the scope of work and specific monthly deliverables to get insights into the process and what is being done for the budget you commit.
Keeping it simple, try asking this the next time you interview an SEO agency or consultant: "this is what my company wants to achieve, how will you help us get there, and what are your methods?"
Sin #7: Devil is in No Details: Vague scope of work
Once you have vetted an agency, have numerical goals, understanding of who is on your team, and set aside time and resources to execute on the strategy, you must be clear on the scope of work that your new agency is delivering. Whether you agree on billable hours or a detailed scope of work, it is up to you to diligently follow up on what exactly is accomplished during the hours and exactly what the work entails. At Alphametic, we use detailed project trackers and reports to keep our clients in the loop on what we are working on and expected timelines.
SEO Agencies typically will need one to two months to perform an audit on your existing site and digital footprint, then they will implement a new strategy when they have the digital lay of the land for your business, market, and competitors. The scope of work needs to be defined monthly or for the term of your contract, then the expectations on both sides are easily managed. Without a scope of work, it is unlikely work will be done as you intended.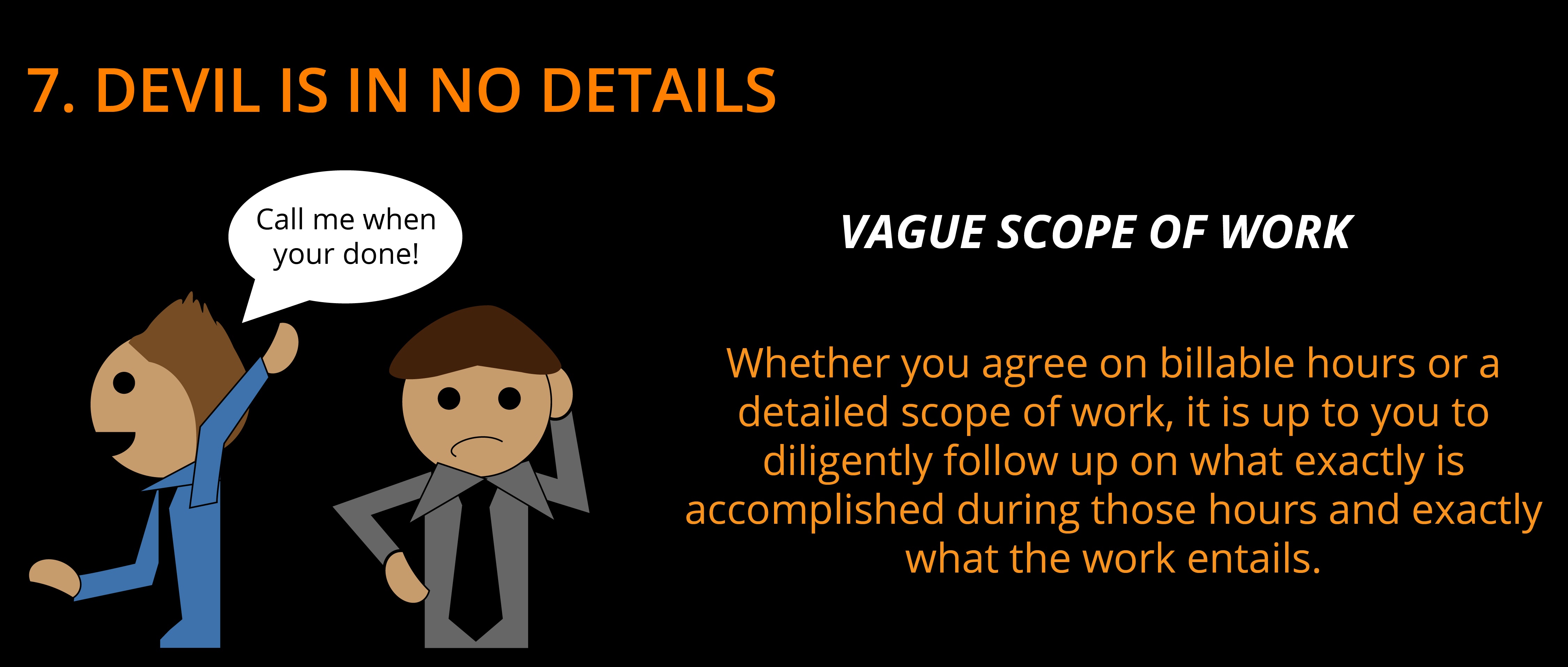 What's your experience choosing the right search marketing agency for your business?
Matthew Capala is a seasoned digital marketing executive, founder/CEO of Alphametic, a Miami-based digital marketing agency, author of "The Psychology of a Website," dynamic speaker, and entrepreneur.
https://alphametic.com/wp-content/uploads/2018/03/Featured-Image-7-Deadly-Sins.jpg
1080
1080
Matthew Capala
https://alphametic.com/wp-content/uploads/2021/01/Alphametic-Logo-Header.png
Matthew Capala
2018-03-07 08:30:44
2019-02-12 21:11:56
7 Deadly Sins of Choosing the Wrong SEO Agency That can Cost You (A LOT)