Best Digital Marketing Conferences to Attend in 2020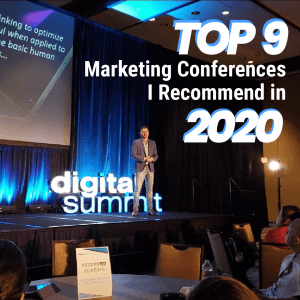 You're a digital marketer who likes to stay ahead of the curve. Reading articles and watching videos on marketing trends is great, but nothing compares to the learning and networking opportunities at digital marketing conferences.
Digital marketing conferences and events are the best way to connect with other marketers, expand your marketing repertoire and be the first to hear what industry thought leaders have to say.
Luckily, there are tons of niche and general digital marketing conferences scheduled for 2020. Here are the best ones to convince your boss to let you attend, covering every digital marketing discipline from SEO and conversion optimization to social media and lead generation.
Digital Summit
: Best all-around digital marketing conference
Location: 22 cities across the US
Ticket price: $245 (Conference Pass) – $995 (Platinum Pass)
Digital Summit is one of the most valuable digital marketing conferences that you can attend. Usually spread across two or three days, Digital Summits are jam-packed with sessions and workshops that will give you actionable takeaways to apply to your 2020 marketing strategy.
Each Summit features brilliant speakers (ehem, not to brag) and leading brands that share their insights on the latest digital marketing trends and strategies. Plenty of receptions, break-out sessions, and meet and greets mean tons of opportunities to meet your next client, vendor, or mentor. 
Digital Summit sessions cover all the major digital marketing disciplines, including:
Content

Search

Email

Mobile

UX & Design

Social media

Strategy
See a video from last year's Digital Summit in Tampa!
Internet Summit
– Best conference for digital marketing channel strategy and trends
Date: November 17- 19, 2020
Location: Raleigh, NC
Ticket price: $245 – $995
Internet Summit is Digital Summit's flagship event, offering more speakers and sessions than the Digital Summit events. Whereas Digital Summit happens in over 22 cities over the course of several months, Internet Summit gathers once in Raleigh, NC. That being said, both events cover the same spectrum of Digital Marketing disciplines – SEO, UX, Content, Design, and more. 
Inbound
– Best conference for lead generation and automation
Date: August 18- 21, 2020
Location: Boston, MA
Ticket price: $49 – $1,299
If you're looking for a conference where you can learn about lead generation and also be in the same room as Janelle Monáe, then Inbound is for you. The 4-day inbound marketing conference is filled with A-list keynote speakers, over 250 educational sessions, and a big focus on community building.
Inbound takes a holistic approach to marketing, taking a step back and shining a light on how we can approach marketing, sales, and customer success differently. With entertainment features including happy hours, parties, and food truck lunches, you won't feel like you're in a stuffy marketing conference. 
Whether you're a product manager, creative marketer, or start-up founder, Inbound can help open your mind to innovative marketing tactics that you can bring back to the team. 
Date: October 13-16, 2020
Location: Cleveland, OH
Ticket price: $599 – $2,599
You've heard it: content is king. Crucial for both SEO or user experience, compelling content can be the difference between customers engaging vs. looking somewhere else. 
If your content marketing strategy needs a revamp, or you just want to get new ideas for your 2020 content marketing plan, then Content Marketing World is the conference you need to sign up for. 
Founded by Content Marketing Institute (CMI), Content Marketing World is the biggest content marketing-focused conference in the world. Apart from workshops and sessions that cover content marketing fundamentals such as strategy and development, you also have the option to attend sessions on unique topics such as "millennial marketing" and "storytelling strategies."
The conference also features industry-specific content marketing forums, such as financial services and travel and tourism. 
The four-day event also includes plenty of breaks and networking sessions so you can connect and exchange ideas with other content marketers. 
Date: March 1- 3, 2020
Location: San Diego, CA
Ticket price: $447 – 1,247
Of all the marketing disciplines, social media is by far the fastest-moving. You want to make sure that you keep up with the latest trends so that your social media presence keeps your audience engaged, while also building trust and spreading awareness.
Enter Social Media Marketing World: Social Media Examiner's annual conference for social media marketers, gurus, and aficionados. Get the latest social media insights, tips and strategies from experts in every platform and field. 
The conference's 16 tracks cover everything from specific social media features (such as Facebook ads and Messenger bots) to special skills (such as analytics and video creation). You'll be sure to leave the conference with the knowledge and connections you need to boost your social media ROI tenfold.
Date: March 31- April 2, 2020
Location: San Diego, CA
Ticket price: $1,295 (early bird) – $3,295
A pretty Instagram feed is great, but leadership is most concerned with digital marketing ROI. The two magic words during a marketing board meeting: traffic and conversions. 
The Traffic and Conversions Summit gets to the heart of digital marketing, teaching over 10,000 attendees how to implement conversion strategies that justifies their marketing budget. 
Niche sessions include Digital Retailers (eCommerce), Agencies, Growth Hackers, Content Marketers and Conversational Marketers.
This conference will equip you with the tools and ideas you need to get more leads and conversions through exceptional digital marketing, so you can lead that board meeting with confidence.
MozCon
– Best conference for SEO (if you like the geeky stuff)
Date: July 6- 8, 2020
Location: Seattle, WA
Ticket price: $999- $1,499 (early bird)
With a new Google Algorithm Update coming out every few months, it can be tough to keep up with SEO best practices. For years, Moz has been a leading source for the latest SEO tips and strategies. Now, they have a conference that brings together all the experts in digital marketing and SEO for three days of learning and networking.
MozCon is the best marketing conference out there if you want to dive deep into SEO. While other digital marketing disciplines are covered, the workshops and sessions focus on SEO. This includes high-level SEO best practices, as well as technical topics like backlink strategy and keyword tracking.
Date: November 3 – 6, 2020
Location: San Francisco, CA
Ticket price: $1,095- $1,995 (early bird)
If you own or work for a B2B enterprise, you know full well that marketing to businesses takes a completely different approach than marketing to consumers. B2B products and services have a much longer sales cycle than B2C brands, requiring extensive relationship and trust building before a conversion is made.
If you want to learn the latest B2B marketing strategies and insights, then B2B Forum is a must-attend. Held by leading marketing training company MarketingProfs, B2B Forum is the leading conference for B2B marketing professionals. Dozens of workshops cover every aspect of B2B online marketing, including B2B lead generation, email marketing, social media marketing, and more.
I spoke at the conference last year in DC, and always make an effort to engage with attendees during break-out sessions and receptions. Hope to see you there this year!
Date: TBA
Location: Cleveland, OH
Ticket price: TBA
Last year, I shared a stage with some of the brightest minds in digital marketing at AdApted Digital Media Summit, including Carlos Gil, the author of The End of Marketing. Hosted by JMC Brands, AdApted Digital Media Summit is a three day conference packed with speakers ranging across every digital marketing focus, from SEO to social media. The dates for the 2020 conference haven't been announced yet, so we'll be sure to send an update when tickets go on sale! 
Have I missed any events? Let me know if there are any worthy marketing conferences that you think should be included in this list!
Matthew Capala is a seasoned digital marketing executive, founder/CEO of Alphametic, a Miami-based digital marketing agency, author of "The Psychology of a Website," dynamic speaker, and entrepreneur.
https://alphametic.com/wp-content/uploads/2020/04/GUIDE_-Updating-Your-Google-My-Business-During-COVID-19-1.png
414
511
Matthew Capala
https://alphametic.com/wp-content/uploads/2021/01/Alphametic-Logo-Header.png
Matthew Capala
2020-01-16 17:11:23
2020-04-09 20:59:25
Best Digital Marketing Conferences to Attend in 2020