Update: July 15, 2019
Google added this testing tool to validate FAQ schema, which is now no longer "pending" and available for use.
Per Google's Developers' site, "A Frequently Asked Question (FAQ) page contains a list of questions and answers pertaining to a particular topic. Properly marked up FAQ pages may be eligible to have a rich result on Search and Markup Action for the Google Assistant, which can help your site reach the right users."
In other words, the FAQ's can show up in the SERPs. Here's an example:
In the above example, the website, description, and a few questions and answers appear together. There are certain recommended guidelines from Google to increase the odds of your FAQ page ranking.
Once again, only use FAQPage markup if your page has a list of questions with answers. Some examples include:
An FAQ page written by your site, which doesn't have the ability for users to submit answers.
A product support page that lists FAQs, again without the ability for users to submit answers
This website is a good option if you need a JSON-LD schema markup generator (choose FAQ page from the dropdown).
February 1, 2019
Google recently published new content guidelines for Q&A page schema markup to clarify that the markup is for pages where the "….focus of the page is a single question and its answers" rather than a page with multiple questions and answers, like an FAQ page." As a result, it has left digital marketers with some questions.
Google has confirmed that it has been testing a new form of search results snippets for several months, which affects the manner in which search results appear to users. These new search snippets are in the form of FAQs and Q&A, as well as How-Tos. But you can read the full content guidelines here.
QAPage
From Google Developers:
Q&A Pages are web pages that contain data in a question and answer format, which is one question followed by zero or more answers to the question. For content that represents a question and its answers, you can mark up your data with the schema.org QAPage, Question, and Answer types.
Properly marked up pages are eligible to have a rich result displayed on the search results page. This rich treatment helps your site reach the right users on Search.
Google Search uses the properties of the QAPage as described below.
Question
The Question type defines the question that this page answers, and includes the answers, if any, to that question. Exactly one Question type is expected on the page, nested under the mainEntity property of the schema.org/QAPage. There should only be one Question type definition per page.
The full definition of Question is provided on schema.org.
Answer
The Answer type defines the suggested and accepted answers to the Question on this page. Define Answers inside the Question, as values for the suggestedAnswer and acceptedAnswer properties.
The properties of the Answer type used within a question is shown in the table below.
The full definition of Answer is provided on schema.org.

Official Statement from Google
This is a screenshot from a recent Google event in Singapore: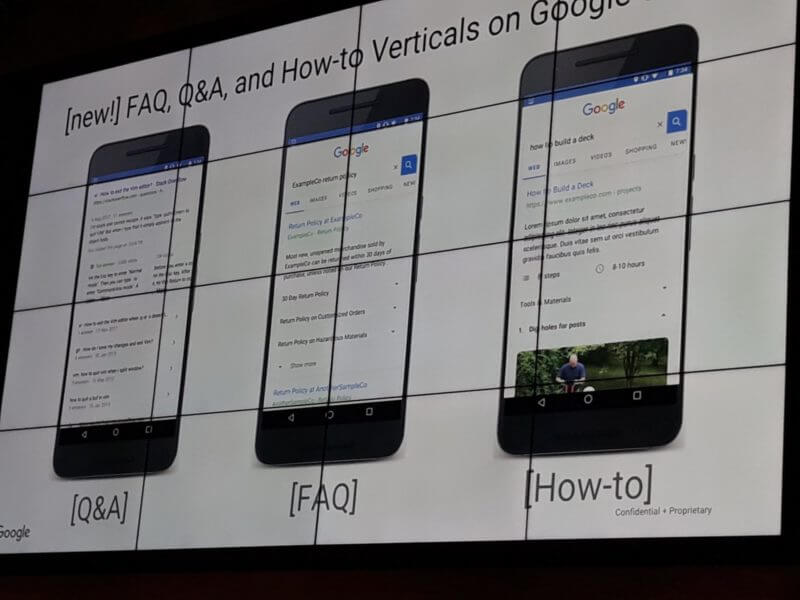 Statement via a Google Spokesperson to Search Engine Land:
"We're always looking for new ways to provide the most relevant, useful results for our users. We've recently introduced new ways to help users understand whether responses on a given Q&A or forum site could have the best answer for their question. By bringing a preview of these answers onto Search, we're helping our users more quickly identify which source is most likely to have the information they're looking for. We're currently working with partners to experiment with ways to surface similar previews for FAQ and How-to content."
This new snippet feature creates a preview of what the searcher can expect to see on a webpage prior to visiting the page. Schema markup should allow SEO's and web developers the ability to have their website be eligible for this feature.
Google is planning to open an interest form to allow publishers and webmasters to participate in the FAQ and How-to schema markup formats shown in the above screenshot.
What the Experts are Saying
SEO's and digital marketers alike are actively tweeting on the subject. Barry Schwartz of SEORountable had this to say along with an article with more info:
Google says the new Q&A page structured data is not for use on FAQ pages https://t.co/lNET8NqLTg pic.twitter.com/6GAJmysYAG

— Barry Schwartz (@rustybrick) December 5, 2018
John Mueller chimed in on Twitter as well explaining that QAPage markup can't be used for FAQ content which is an important distinction:
Hi Modestos, just following up here — after checking with the team it turns out that QAPage markup isn't suitable for FAQ content. We've updated the docs to make that clearer there too.

— 🍌 John 🍌 (@JohnMu) December 4, 2018
How You Can Get Started
You can review the Schema.org website, and find a lot of this markup available already, including HowTo markup, QA page markup, and FAQ markup. But Google hasn't fully rolled out this feature yet. You will also want to check out this great, free tool provided by Google to test your structured data.
Bryan Wisotsky is an expert digital marketer with over a decade of experience. His advanced search and paid strategies have consistently led to increased website traffic, keyword rankings growth, increased conversions, and ROI. Over his career, Bryan has worked with and for large companies including Coconut Bay Resort & Spa, Grace Bay Resorts, Husqvarna, Carnival, FP&L, Royal Caribbean, Wakefern, Capillus, The Collection, City Wonders, and many others. He holds a bachelor's degree in Business Administration from American University.
https://alphametic.com/wp-content/uploads/2018/12/google-faq-qa-schema-2.jpg
1280
1920
Bryan Wisotsky
https://alphametic.com/wp-content/uploads/2021/01/Alphametic-Logo-Header.png
Bryan Wisotsky
2019-02-01 17:16:43
2019-08-21 21:26:11
Google FAQ Vs. Q&A Schema Markup Explained