Google June 2019 Core and Diversity Update: Everything You Need to Know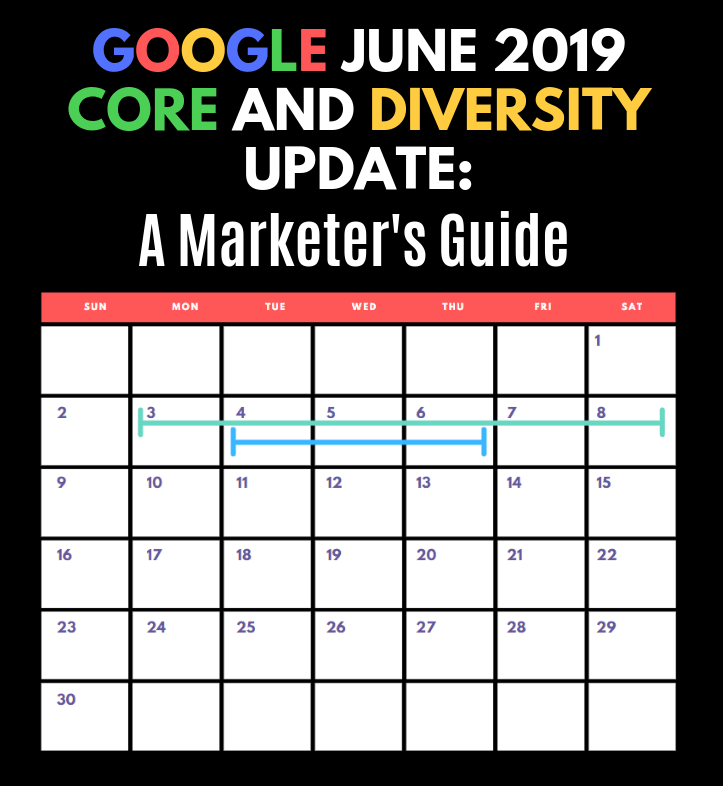 Anyone who works in search engine optimization knows that Google algorithm updates can have a big effect on page rankings. Algorithm changes happen on a daily basis to improve user search experiences, but once in a while there's a larger "core" update. Rather than focusing on improving one aspect of search, such as backlinks or local spam, core updates consist of a change to the hundreds of ranking factors that make up Google's main search algorithm. 
What's so special about the June 2019 Core Update?
Core updates usually occur out of the blue, and are later given names by SEO's (e.g. Florida 2 Update in March of this year). However, the most recent Google Core Update in June was unprecedented in that Google pre-announced the update, rather than website managers finding out about the update by seeing their rankings changed drastically. Not only was the update pre-announced, but it was also pre-named: "June 2019 Core Update". The update was announced by Google SearchLiaison on Twitter a day before the update was to roll out:
Tomorrow, we are releasing a broad core algorithm update, as we do several times per year. It is called the June 2019 Core Update. Our guidance about such updates remains as we've covered before. Please see this tweet for more about that:https://t.co/tmfQkhdjPL

— Google SearchLiaison (@searchliaison) June 2, 2019
The unprecedented pre-announcement ushered in speculation from SEOs about the significance of the update. Danny Sullivan, the public face of Google Search, explained on Twitter that the core update isn't radically different from previous updates. Rather, the purpose of pre-announcing the update was to let people know in advance, instead of finding out after the roll-out and asking a bunch of questions about it.
Nothing special or particular "big." It's the usual type of core updates that we regularly do. We just wanted to be more proactive. Rather than people scratching their heads after-the-fact and asking "hmm?," we thought it would be good to just let folks know before it rolled out.

— Danny Sullivan (@dannysullivan) June 2, 2019

Google SearchLiaison announced on June 3 that the update began rolling out:
The June 2019 Core Update is now live and rolling out to our various data centers over the coming days.

— Google SearchLiaison (@searchliaison) June 3, 2019

The update finished rolling out on June 8. Knowing the beginning and end of any update is important in order to give meaning to changes in traffic.
What were the effects of the Google June 2019 Core Update?
The effects of the Google June Core Update began trickling in as the roll-out took place.
Limited chatter and signs thus far around the June 2019 Google core update – probably still rolling out https://t.co/n7og0mkZAL pic.twitter.com/UxRMGxTCeA

— Barry Schwartz (@rustybrick) June 4, 2019

As with any Core Update, the effects were clear but the reasoning behind the effects were less so.
Some news sites take a big hit
Several news providers experienced a significant drop in rankings after the Core Update. The British news site DailyMail reporting a 50% drop in traffic. Another news site that took a hit was the cryptocurrency news site CCN, which announced it was shutting down after a 71% drop in mobile traffic and an over 90% drop in daily revenue following the core update.
Increase in Video Carousel results
The June 2019 Update didn't just affect search traffic. There were reports that the update caused changes to the layout of the SERPs, with more video carousels appearing on desktop searches. This follows a trend the overall trend of video results ranking higher than text-based results on SERPs.
What's an SEO to do?
An SEO's job is to implement strategies to rank higher in search results, without compromising the user's search experience. If your site was affected by the June 2019 Core Update or Diversity Update, it means RankBrain interpreted that your site wasn't optimized for the user.
In a recent Google Webmaster Hangouts, a webmaster asked Google's John Mueller a question regarding the drop in traffic on their site.

Mueller responded that there are no explicit changes you can make to try to recover your rankings. Rather, he recommended reading an old blog post on the Webmaster Central Blog to get insights on building a high-quality site. The article gives guidelines for achieving high expertise, authority, and trustworthiness (E-A-T) on your website, creating high-quality, original, factual, and useful content.
What was the Google Diversity Update?
In the middle of the Core Update rollout, another change, the Google Diversity Update, was announced:
This site diversity change means that you usually won't see more than two listings from the same site in our top results. However, we may still show more than two in cases where our systems determine it's especially relevant to do so for a particular search….

— Google SearchLiaison (@searchliaison) June 6, 2019
As stated in the official Google SearchLiaison tweet, the Diversity algorithm change will prevent more than two listings from the same domain on the first search results page. The purpose of this update is to show a more diverse range of results to any given query, to prevent one site from dominating the SERP. 
In certain cases, Google reserves the right to show more than two results from the same site when it's relevant. For instance, branded queries will likely show more than two results from the same domain. 
The Google Diversity update started and ended in the midst of the Core update (June 4 to June 6). 
What was the effect of the Google Diversity Update?
Despite the hype, the impact of the Google Diversity Update was fairly minimal. Moz released a report analyzing average diversity across page-one SERPs using a dataset of 10,000 keywords. The report found very little change in SERP diversity over the course of thirty days. However, average diversity did improve marginally, from 90.23 to 90.72 percent, between June 6th and 7th (the last day and after the update rolled out). 
What's an SEO to do?
Since the Diversity Update limits the number of times your domain appears on the SERP, you have to make sure that your content is distributed across different platforms and mediums. This can mean knowledge graphs, press mentions, YouTube, Wikipedia, and social media links. If your content can be found across multiple websites, then you won't have to worry about site diversity algorithms not showing your content.
If you stick by Google's quality guidelines, you won't have to live in fear of a Google algorithm update tanking your traffic. Your website should be constantly maintained and improved for the user experience. If you follow by Google's quality standards, you will be rewarded in rankings and traffic.
Interested in learning more about SEO strategies? Read our recently updated Google FAQ Vs. Q&A Schema Markup article to learn how to markup your FAQ section!
Matthew Capala is a seasoned digital marketing executive, founder/CEO of Alphametic, a Miami-based digital marketing agency, author of "The Psychology of a Website," dynamic speaker, and entrepreneur.
https://alphametic.com/wp-content/uploads/2019/07/google-june-core-diversity-update.png
786
723
Matthew Capala
https://alphametic.com/wp-content/uploads/2021/01/Alphametic-Logo-Header.png
Matthew Capala
2019-07-16 19:07:56
2019-07-30 16:12:03
Google June 2019 Core and Diversity Update: Everything You Need to Know