Matthew Capala of Alphametic Interviews Ja Rule on ICONN, Discusses the Future of Content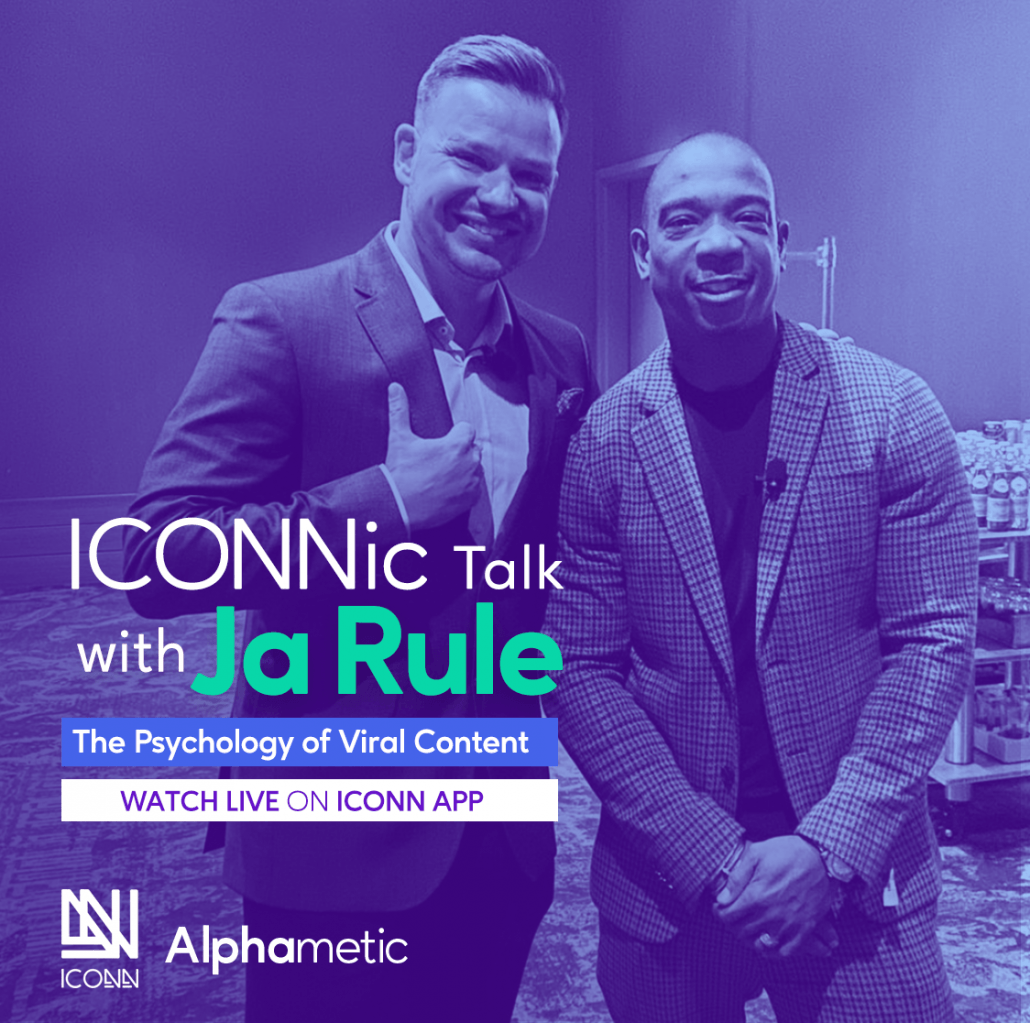 This press release was originally published on MarketWatch on 1/28/21. Our Founder, Matthew Capala sat with Ja Rule for an ICONNic talk.
On December 30, 2020, the two entrepreneurs participated in a live Zoom-like interview on ICONN Live, the new social platform and talent-booking app created by Ja Rule, the celebrity rap artist turned startup founder and investor.
Humbled by the lessons of his past and the impact of the recent pandemic, yet energized by the emergence of a new culture and technologies, Ja Rule offered an optimistic outlook for 2021: "We've been through this in 1918 with the pandemic, and what followed was the Roaring Twenties. We are going through this right now. There is a lot of the underground swelling of circles that make you feel Speakeasy-ish. It feels like we are in the Roaring Twenties again."
Looking back at 2020 as the year was coming to an end, he declared his theme for the new year will be Impossible is Nothing. "People are faced with so many obstacles and challenges during this pandemic. And sometimes people need a little push to let them know that Impossible is Nothing," said Ja Rule. "Some people look at what I've been through, coming from the bottom, and that's what Impossible is Nothing represents. It represents the voiceless and the people who are in a daily struggle."
With ICONN Live, Ja Rule hopes to give voice to the emerging content creators, especially hip hop artists and entertainment startups, who are shaping the current culture for which the app was created. He aims to inspire his fans to "join the revolution" to get ahead in this new economy. He sees social media as becoming more decentralized and evolving, opening the doors for new market entrants, such as his own social app.
The recent success of TikTok and ClubHouse, as well as the rapid adaption of blockchain and social commerce, are the building blocks of this new ecosystem, in which the content creator has more power and more options. "I think people like decentralization. Even when you look at the bitcoin and the crypto movement, people like the idea of not being controlled and having freedoms," said Ja Rule.
Capala and Ja Rule partnered to record this interview as the first in the series of the "ICONNic Talks with Rule," a new talent-booking feature on the ICONN app, which allows his fans and early adopters to schedule live video chats with the likes of Ja Rule, leveraging his celebrity status to make their own headlines.
Matthew Capala, the founder of a Miami-based digital marketing agency, Alphametic, and former NYU professor noted that "most content gets very little engagement. It's not enough to create, you need to create and innovate."
In the end, the two entrepreneurs expressed excitement about the rising movement of content creators who are experimenting with emerging platforms. This group includes influencers who will become early adopters, riding the wave of the new Roaring Twenties culture alongside the movers and shakers. The Capala Rule interview provides an example of how such projects can be carried out.
The full interview is available on the ICONN Live app.
Check out our most recent blog post: "Ja Rule's Secret 3-Step Formula for Viral Content"
Additionally, you can watch the highlights of Ja Rule talking about viral content:
Media Contact
Company Name: Alphametic
Contact Person: Matthew Capala
Email: Send Email
Phone: (786) 565-2810
Country: United States
Website: https://alphametic.com/
Matthew Capala is a seasoned digital marketing executive, founder/CEO of Alphametic, a Miami-based digital marketing agency, author of "The Psychology of a Website," dynamic speaker, and entrepreneur.
https://alphametic.com/wp-content/uploads/2021/02/JaRule-IG-V2.png
1116
1124
Matthew Capala
https://alphametic.com/wp-content/uploads/2021/01/Alphametic-Logo-Header.png
Matthew Capala
2021-02-11 18:05:09
2021-02-12 15:49:43
Matthew Capala of Alphametic Interviews Ja Rule on ICONN, Discusses the Future of Content