Google My Business and COVID-19: How to Update GMB Listings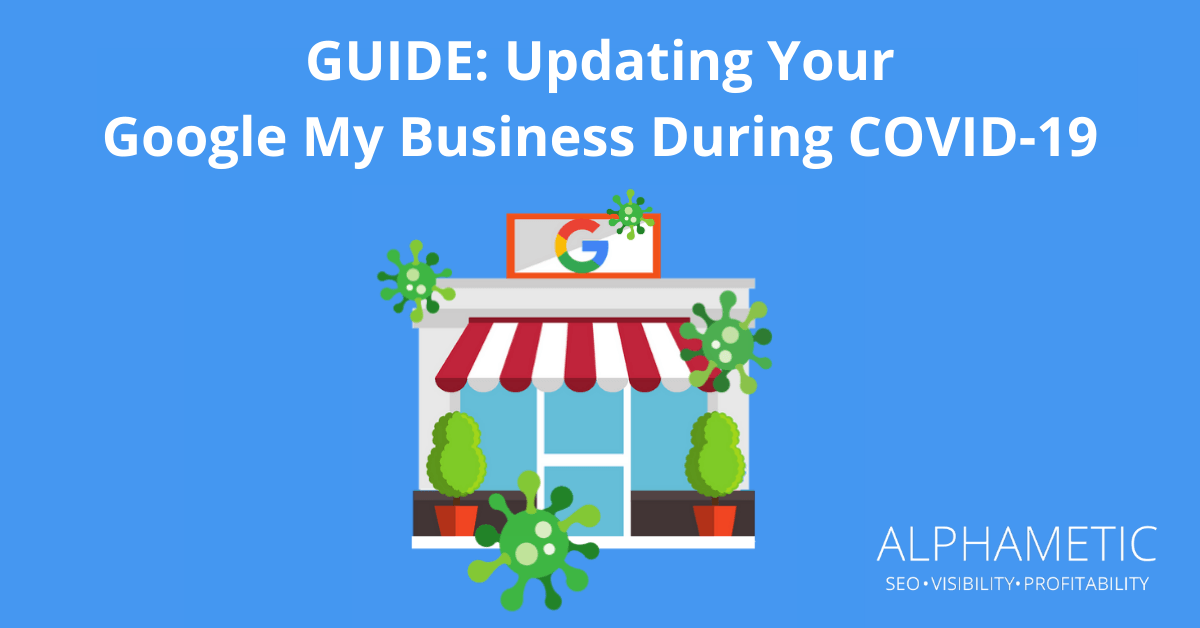 Local businesses were some of the first to be affected by the COVID-19 outbreak. Many cities instituted mandatory closures and curfews for businesses, to prevent groups of people from gathering and potentially spreading infection.
But customers are still looking for local services, and Google My Business is often the first thing they see when searching. In order to help businesses provide accurate and up-to-date information to their customers, Google posted a guide in their help center on how to update your Google My Business listing with new hours of operation. 
Compiling information from the Google My Business Help Center as well as their customer service number, the following steps represent the best practices when communicating temporary closures on Google My Business.
Update Operating Hours
If your business is temporarily closed or has altered hours, it's best practice to update this in Google My Business as soon as possible. When closures first started happening in early March, there was no option in Google My Business to list a location as "Temporarily Closed." 
Fortunately, Google rolled out this feature in late March. Business owners can now mark their business as temporarily closed in the Info section of their Google My Business dashboard. 
It will then appear in search results as this:
Adjust Attributes
You have the option in GMB to tag certain attributes to your business, such as accessibility and dining options. It's best practice to keep these attributes up to date, so your customers know whether your business has adjusted offerings due to the virus. 
For instance, if you manage a restaurant's local listing, you can add attributes such as Delivery, Takeout, and Curbside Pickup.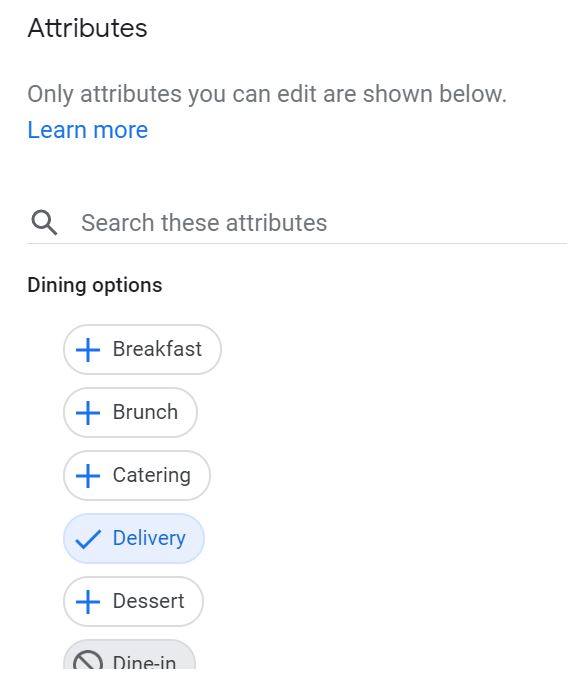 Add to the Business Description
Another way to make sure that customers are aware of any operational changes due to COVID-19 is by updating your Business Description. This can also be updated in the Info section, where you scroll down past the Attributes section. 
We recommend adding a quick message in front of your existing business description. Sample language could be:
"[Business Name] will temporarily cease operations/be closing at [new time] due to concerns over the spread of coronavirus in [State]. Please check our website for updates."
You can also use the business description to communicate extra efforts you're making to keep employees safe and workspaces sanitized. 
Below is a sample updated Business Description from a Pubbelly Sushi location in Miami: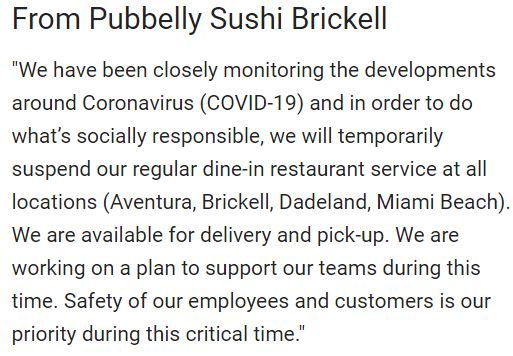 Create Posts
Google My Business gives the option to publish "posts" with updates about your business. Publish an initial post with a general update about how the business is affected by COVID-19; whether the business will be closing, and any measures the business is taking to ensure the safety of their guests and the general public. 
The post is displayed on the search engine results page, underneath business details and reviews. 
Below is an example of a post by a local restaurant announcing that they are closed temporarily: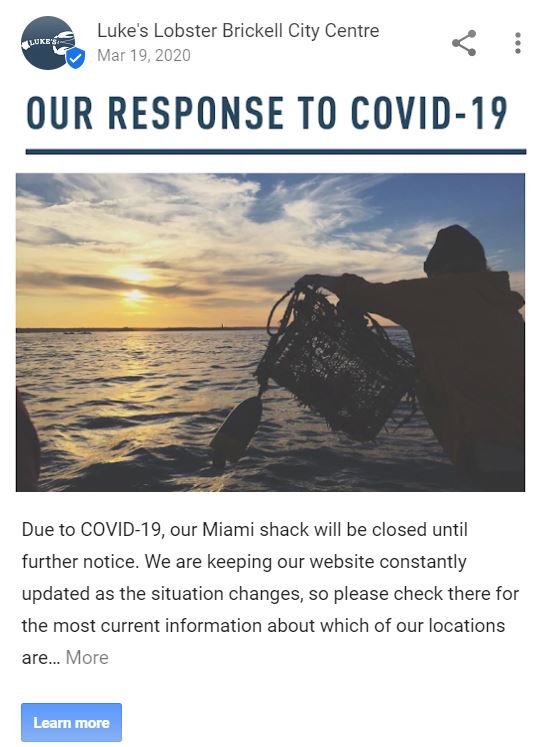 Make sure to create a detailed and timely post each time there is an update in the business operations.
Update Events
With many states prohibiting the gathering of 8 people or more, almost all physical events in the next few months have been canceled or postponed. If you hold events at your business, make sure to update listings with any cancellations and details on rescheduled dates.
Google My Business pulls event details from external sources including Facebook events, Eventbrite and Meetup, so make sure you've updated your event details there.
You may have events published on third-party sources that you don't have access to. In this case, try to contact the platform administrator to update your event. 
As of March 30, Google My Business added a banner above events that says "Event information may be out of date due to the coronavirus (COVID-19). Confirm details with event organizers." If you're not able to edit your event information from external listing sources, then this banner can help to serve as a last line of defense.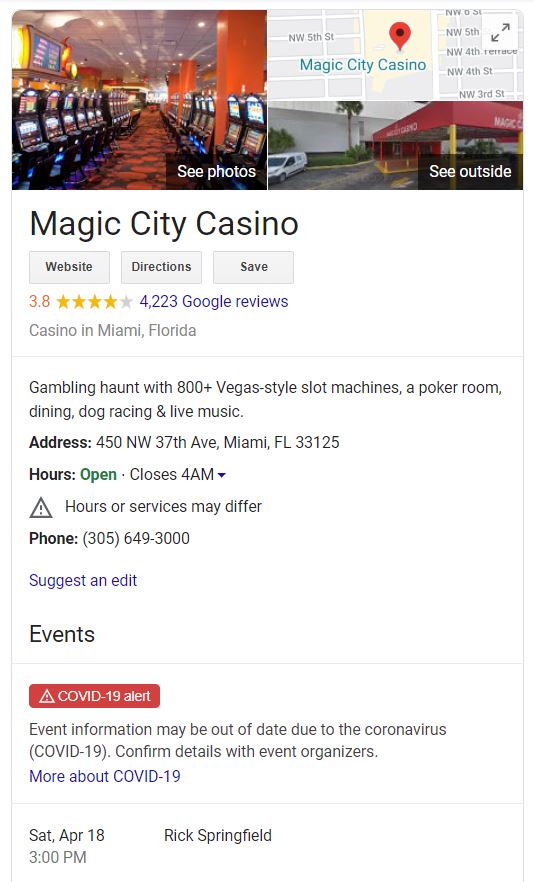 Limited Google My Business Functionality 
Even Google isn't immune to disruptions caused by pandemics, and they announced on their Help page that due to COVID-19 they are having temporary support delays and limitations. Expect any changes you make on Google My Business listings to take a few days to update on the front end. 
Plan a Reopening Strategy
Nothing lasts forever. Hopefully, when this is all over, you will be ready to reopen your business to customers and resume a normal level of activity. 
Before you reopen, you will need to update everything you adjusted in Google My Business. This can include hours of operation, business descriptions, attributes, and events. 
Once you find out your reopening date, create a post announcing it. 
The aftereffects of Coronavirus are likely to continue after the curve has flattened, so it's crucial to maintain consistent communication with your customers throughout the pandemic's lifespan. While adjusting business hours can be difficult, maintaining business listings up-to-date will help customers stay informed and loyal.
Matthew Capala is a seasoned digital marketing executive, founder/CEO of Alphametic, a Miami-based digital marketing agency, author of "The Psychology of a Website," dynamic speaker, and entrepreneur.
https://alphametic.com/wp-content/uploads/2020/04/GUIDE_-Updating-Your-Google-My-Business-During-COVID-19.png
414
511
Matthew Capala
https://alphametic.com/wp-content/uploads/2021/01/Alphametic-Logo-Header.png
Matthew Capala
2020-04-08 20:41:47
2020-04-10 13:29:33
Google My Business and COVID-19: How to Update GMB Listings