Mastering the Online Beauty Marketing Game
Beauty Marketing can be one of the most creative and exciting industries to be a part of – but challenging doesn't even begin to cover it. With the plethora of independent beauty brands popping up left and right, as well as iconic brands like L'oreal and Estee Lauder diversifying their product offerings, it might seem like there's no space for new players. But that's simply not true – it's all about carving out your target market using online strategies and delivering the content they crave in a way that leads to profitable margins and high ROI's (and who doesn't want a high return on investment).
Over many years of experience in beauty SEO & marketing, Alphametic has developed a winning process when it comes to online success: SEO, Content, and Conversion. It seems simple, but the basics are foundations for a reason. As a beauty SEO agency, we've helped some of the biggest brands crush competition in saturated markets so they can plant their brand flags in the dog-eat-dog beauty world. Below, you can jump to the different sections in this guide for easy access:
Follow a manual added link
Buyer personas make a great starting point to your SEO plan and content strategy. In this guide, Alphametic has put together some of the main beauty personas based on today's beauty consumer trends.
Follow a manual added link
Search Engine Optimization. How will customers find your brand online? By understanding the key concepts of SEO and the strategies business's use to retain online visibility, you can begin to make SEO work for you.
Follow a manual added link
Give your visitors what they want. Answer their questions. Make their online experience a great one. Make a robust content strategy powered by SEO and data-driven audience profiling an integral part of your beauty marketing plan to lead potential visitors right to your doors.
Follow a manual added link
Different types of personas enter your beauty website – the one on a budget, the hard-core purchaser, the one looking for a premium product and more. Understanding each of these customers and what makes them tick is key to setting up your website's conversion funnels.
BEFORE YOU BEGIN: BEAUTY PERSONAS TO KICKSTART YOUR CONTENT
Buyer personas are an essential piece of a marketer's toolkit. It can inform your content, get you into your customer's mindset and reorient your team's vision for your marketing goals.
But in the record-breaking evolution of the beauty industry in recent years, it may pay off to not see each persona as an individual customer – but more as a common trait or motivation that consumers manifest when making purchasing decisions regarding beauty products.
In this post, we'll be going over 5 beauty buyer personas that we've found useful when constructing SEM ads, content plans and other digital marketing strategies within the beauty industry.
Persona #1 Social-Media Meg
Demographic:
Millenial woman age 18-35
Mid-to-high income range
Behavior & Interests:
Finds out about new beauty products through social media
Watches online reviews by Youtube influencers before making a purchase
Is always up-to-date on up and coming beauty trends and products
WIll usually have a handful of "beauty gurus" they look to for beauty tips
Content Tips: Video, influencers, Insta Stories, social, social, social! Meg loves to discover new things, create your own branded video reviews where you invite influencers (or even everyday women randomly chosen to try out your product) and film your own product reviews. Share them and advertise them all over social media for maximum exposure and follow it up with blog content and other social content related to that same product. This persona is all about that online experience and the thrill of discovering something new that'll make them feel great once they try it.
Brand Affinities:
Too Faced
Tarte
Beauty Bakerie
Fenty Beauty by Rihanna
Persona #2 Price-Sensitive Sally
Demographic:
Wide age range between 16-45
Low-to-mid income range
Behavior & Interests:
Mostly concerned with sticking to her beauty budget
Doesn't want to compromise quality for price
Expects to get good-quality products at an affordable price
Will typically shop for skin care and makeup products at Drugstores, like Walgreens and CVS
Content Tips: Because of the want for quality at an affordable price, you can have blog posts from influencers comparing your product to more high-end products if they're comparable. Things like "(Your Brand)'s List of Products That Feel Luxurious Without The Price Tag", which can then be turned into a video and shareable images on Facebook and Pinterest.
Brand Affinities:
E.L.F
NYX
Wet N Wild
Milani
Persona #3 Natural Natalie
Demographic:
Age range between 20-45
Mid-to-high income range
Behavior & Interests:
Highly concerned with ingredients in her products and their environmental impact
Is willing to pay more for an all-natural product
Wants beauty products that are cruelty-free, vegan and 100% organic
Is usually living, or aspiring to live, a healthy, mindful lifestyle. She may do yoga and be into fitness.
Content Tips: Natural beauty is IN, so promote that. You can even publish your ingredient list as a pot or create a video that showcases the natural lifestyle. Have someone living a zero-waste, clean-food, earthy as your influencer or spokesperson. Fill your instagram with images of your product next to organic ingredients – sell the lifestyle.
Brand Affinities:
Burt's Bees
RMS Beauty
Vapour Organic Beauty
Ilia Beauty
Persona #4 High-End Heather
Demographic:
Age range between 30-55
High-income range
Behavior & Interests:
Expects high-quality
Is willing to pay more for a luxurious product
Needs products that match her demanding, and sometimes chaotic, lifestyle
Will typically shop for products online, at Sephora or at Department Stores, like Macy's
Content Tips: Focus on the superior quality, so your content needs to be as high-end as Heather is. In terms of blog content, you can list out the benefits of the product with decadent images and your product page copy needs to reflect that experience.
Brand Affinities:
MAC
NARS
Bobbi Brown
Smashbox
Persona #5 Youthful Yuli
Demographic:
Age range between 30-65
Mid-to-high income range
Behavior & Interests:
Is concerned with her skin health and appreciates makeup products that also have anti-aging qualities. Will usually be open to other anti-aging procedures and is very informed on the latest scientific knowledge about anti-aging procedures, superfoods and hobbies. Feels confident when using her products and feels like she's taking care of her health and her skin when buying the right products.
Content Tips: This is typically an older demographic, so online strategies need to be tailored to an older generation. Individuals in the 45-65 age range tend to use Facebook significantly more than any other piece of social media, so promoting your product through Facebook social ads and creating video content showing older woman that feel confident in their skin can go a long way in promoting the anti-aging lifestyle, which is less about NOT aging, but more about feeling young even when you're reaching your golden years.
Brand Affinities:
Olay
L'oreal Paris
Neutrogena
L'ancome
STEP 1: Get Found With Keyword Research
&

SEO
In today's world, not being readily found online is like not existing. Not having a social media presence is suspect and not having a fully-functioning and robust website where users can find out everything about you is deadly for your brand. There are many methods that SEO's and beauty marketers use to get found online and create a booming online presence, here we'll outline some main concepts in how SEO gets you found and why it's crucial to your online reputation.
SEO Audit and Technical Optimization
Before you get to the colorful stuff, the foundations have to be in order. Your website should be in tip-top shape to handle everything you throw at it, from a technical perspective. In fact, many technical aspects, like site-loading speed, are factors in Google's ranking algorithm. In order to fully diagnose your website, you'll need to perform an SEO audit.
According to SEOWorks:
"An SEO Audit is a health check for your website. It looks at the technical infrastructure of your website, the on-page elements and off-page essentials to optimize Search Engine visibility, usability and conversion."
The SEO Audit is the beginning to every SEO optimization project. If the tech isn't right, your content can't reach its full online-visibility potential. You need to diagnose things like broken links, 404 errors, slow page-loading speeds, missing alt text on your website's images, missing page titles and meta descriptions, and so forth.
A fantastic tool that is widely used by the SEO community is Screamingfrog. This software analyzes a website in minutes and tells you if you have any of the above issues and tells you where they are on your website. It has a free and premium version, depending on what your needs are.
Many ecommerce beauty sites have hundreds, if not thousands, of individual pages because of the sheer amount of product available for purchase. Having a clean SEO protocol for page creation and organization can save you hundreds of hours of optimization and coding clean up on giant sites such as these. If you'd like to check out more SEO data tools we recommend you checking out Dareboost, SiteLiner, SEOSiteCheckUp, SEMRush, Moz, and Ahrefs.
Page speed is another technical SEO aspect that is vital to the search engine health of an ecommerce beauty website. Tools like Pingdom, GTMetrix, or Google's Page Speed Insights can give you insight into your website's loading speed and give you an estimate of what actions you need to take in order to improve site speed. The reason why Google places such a large emphasis on page loading speed is because of the user experience. If your website takes too long to load, it is very likely the user will choose to just exit out of your page and go back to Google search results, and with research indicating our fastly-waning attention spans, this is almost a certain possibility.
Here are some examples of page speed tests for Kylie Cosmetics:



As you can see, you can see the levels of optimization for both the mobile version of your site and the desktop version. It also gives you suggestions for increasing the site speed: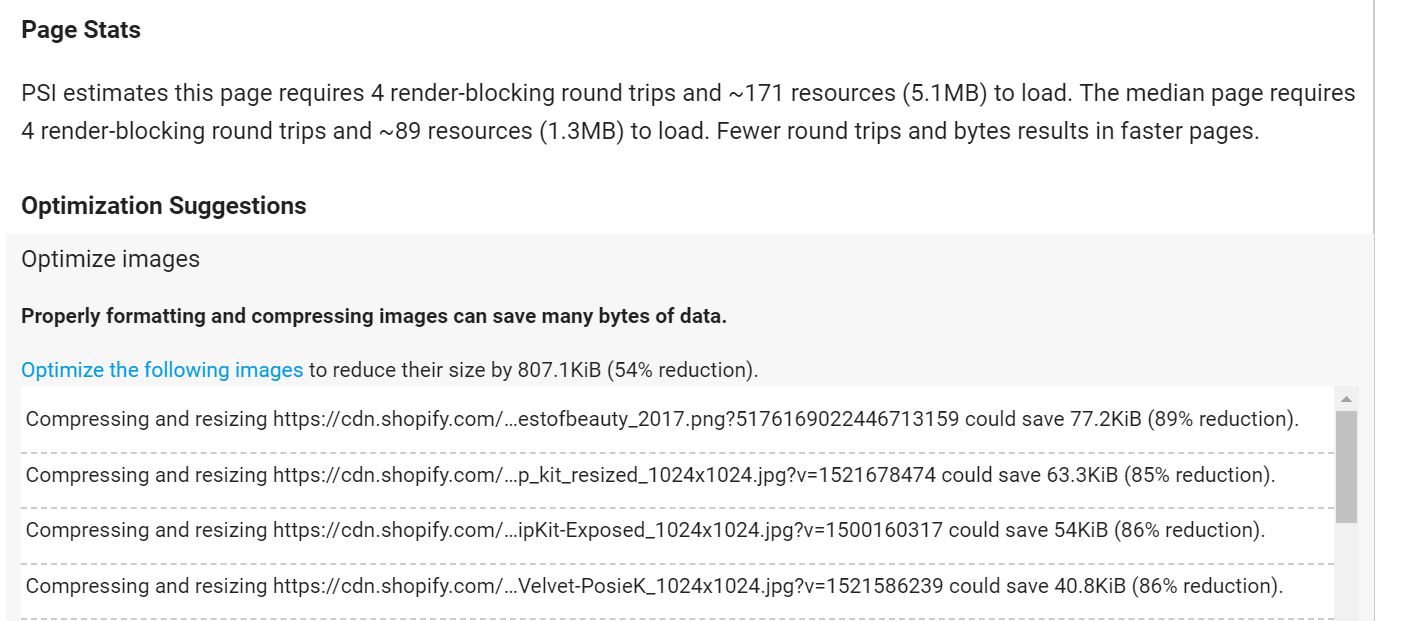 After getting your foundations in order, it's time to move on to keyword research!
Keyword Research and Mapping
This is the foundational level of your SEO/Content strategy – keyword research. Keyword research involves identifying the search queries that your audience uses in order to tailor the content of your site to them more effectively as well as increase your Google search result rankings for those keywords.
For example: if you're a natural skincare brand, there are many things potential visitors can search for to find you. They may identify your business establishment as an organic brand, a "green" skincare line or a "sustainable" brand. They can use a combination of these words when searching for natural skin care products that align with their values and desires.

This data is from Google's Keyword Planner – a valuable tool when conducting keyword research. It tells you how many people per month, on an indexed scale, search for a particular key term. It also shows you whether the competition for that keyword in Paid Search is high or low and suggests a bid amount if you'd like to run a campaign on Adwords.
As you can see, these different variations of natural skin care all have different search volume. "Green skincare" has a lower search volume, but has high competition. This means it's probably not worth pursuing as a target keyword, because people don't tend to search this way. "Natural skin care" and "organic skin care" both have high volume and high competition, so those are good targets, but still very tough to rank for. The sweet spot is finding a keyword with high volume and low competition. In the beauty industry, that's tough to do since almost every keyword out there has high competition.
There are many other tools to look up search volume, Google's Keyword Planner is particularly useful because it shows how much people are bidding for keywords, which gives you a sense of how competitive the keyword is under Google's data API.
This is the type of thinking that goes into making decisions about which keywords to target organically in your SEO strategies and which keywords to bid on using Adwords, Google's paid Search Engine Marketing (SEM) platform. Other tools for keyword research include SEMRush, Soovle, UberSuggest, KeywordResearch.io and Moz Keyword Explorer. Learn more about keyword research here.
Keyword-Driven Content Strategy
Creating a piece of content with the intent to rank on specific keywords is the motivation behind a keyword-driven content marketing campaign. It's what beauty gurus do when they review products or create tutorial blog posts online. Most high-ranking influencers are conscience of the keywords the use and what they're readership/viewership is searching online. They then provide the content and use other SEO methods (like backlinking, which we'll discuss in the next section) to help that piece of content rank on Google SERP's on the first page.
Let's take a look at what happens when we type in "How to Use Liquid Highlighter"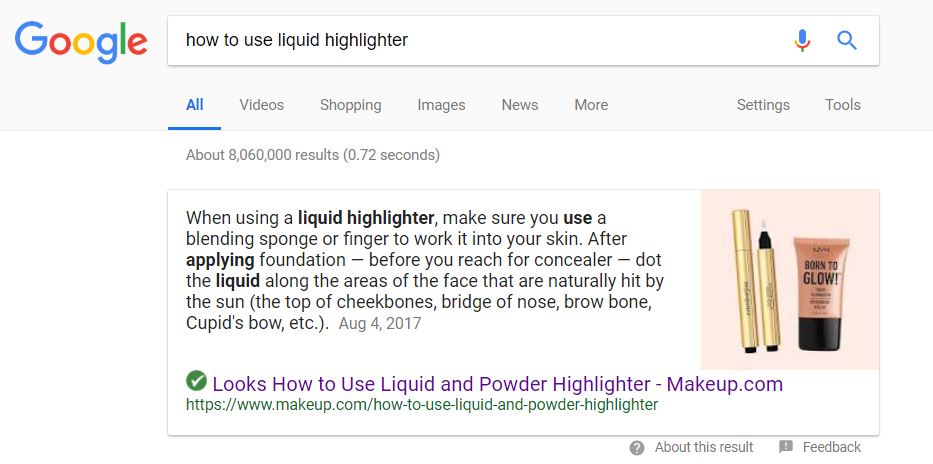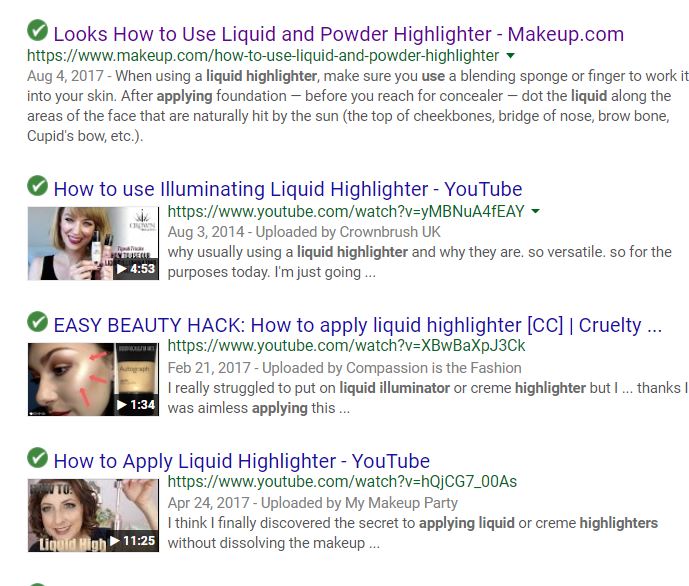 Let's dive a little deeper: Here's the headline of the number 1 result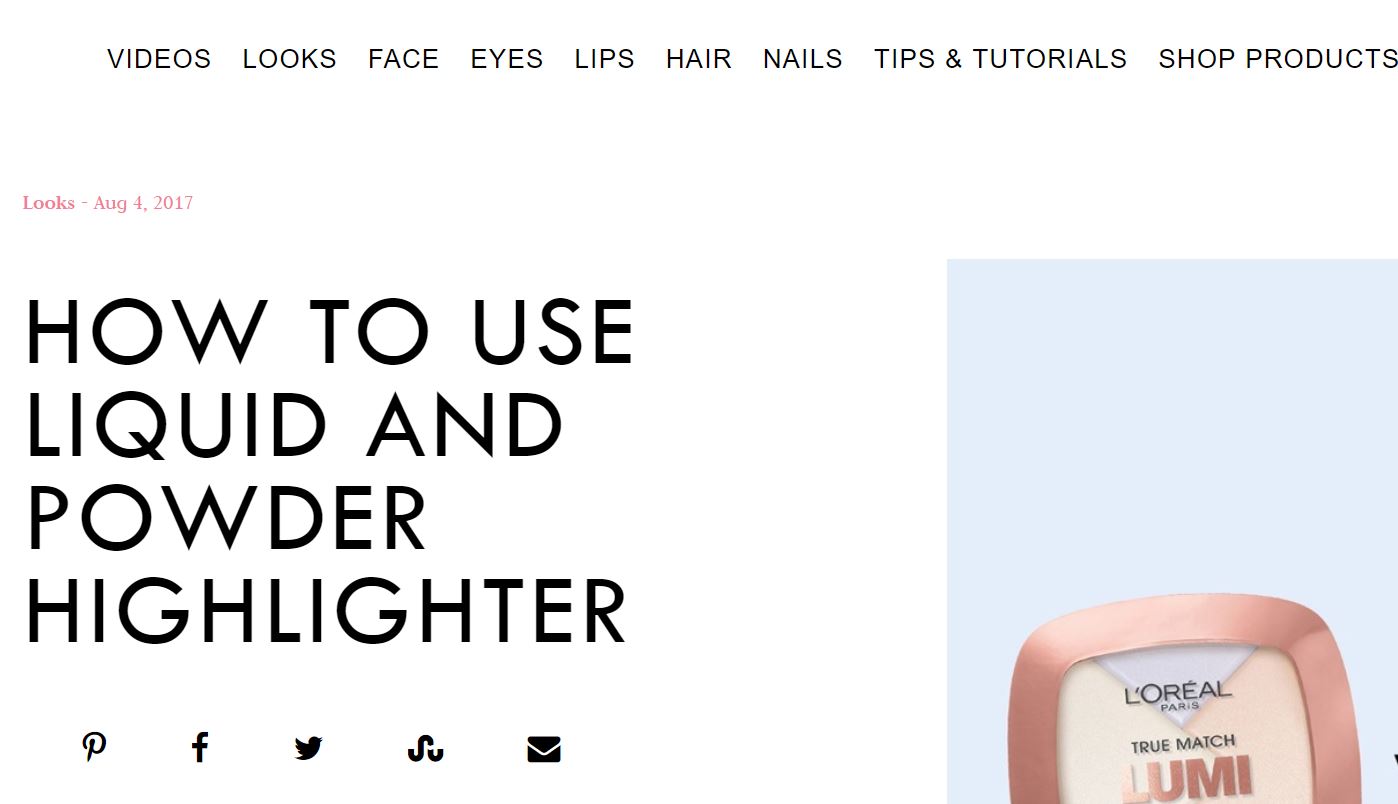 They're probably trying to rank for the terms "how to use liquid highlighter", "how to use powder highlighter", "how to use highlighter". Let's drop this URL into SEMRush and see if this intuition is correct.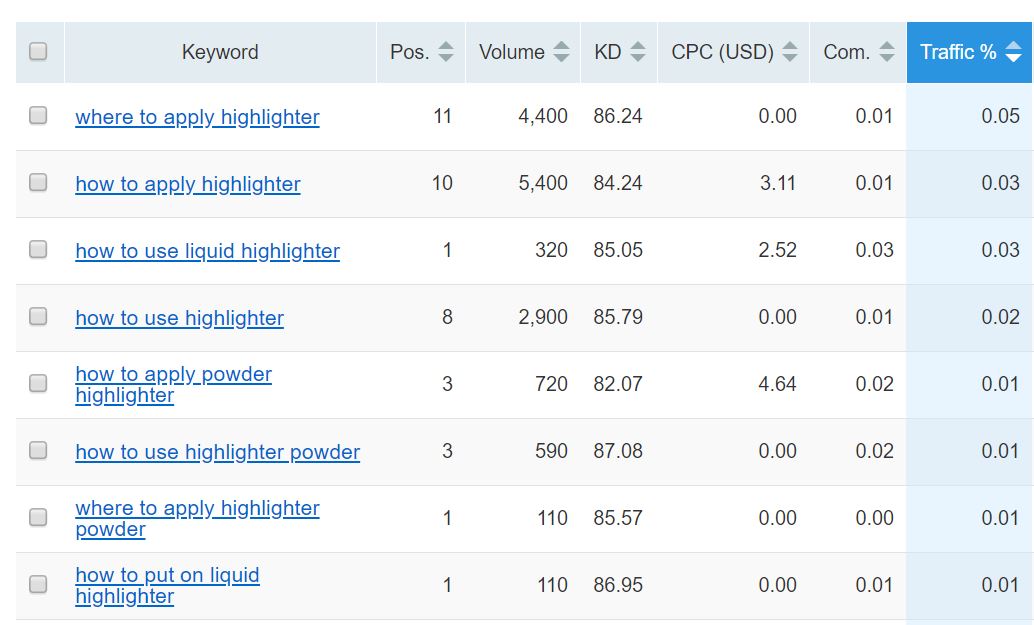 Let's see how they achieved this. Doing a quick skim, let's see where these keywords show up on the page:
Headline
Page Title
Body of Text
Alt Text
There's also a few authoritative links on this site signaling to Google that this, too, is an authoritative site.
You can see from this example how keywords have driven the creation of this piece of content to become the first-page result on Google. Whether it's blog posts, youtube tutorials, category page descriptions, product description pages, etc. your beauty products should show up in results for specific key terms you've intentionally targeted as being high-commercial intent keywords.
After all this talk about keywords and tech SEO it seems that we've got the basics down, but there's one more key ingredient in your website's SEO cake that needs to be added: Backlinks.
Backlink Research and Domain Authority
This is the definition of a backlink according to Google: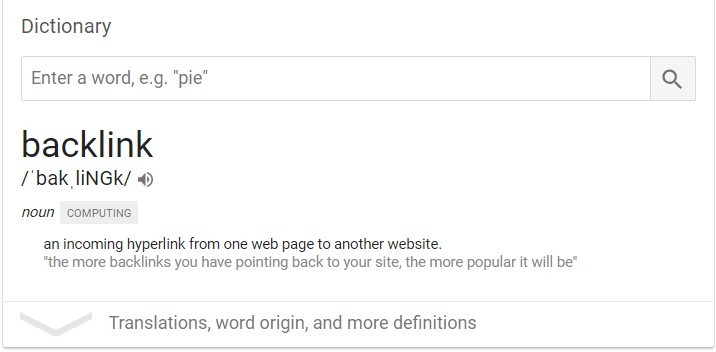 Despite many of the recent Google updates, Backlinks remain a critical Google ranking factor. In the study conducted by Backlinko analyzing 1 million Google search engine result pages, the findings showed that the number of domains linking to a page correlated with rankings more than any other factor.
Not surprisingly, authoritative domains tend to rank higher in Google's search results, like these SERP results for "high quality eyeshadow":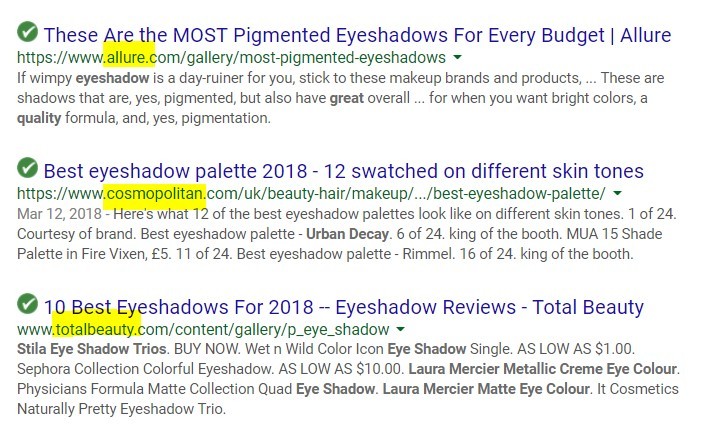 Having a robust backlink portfolio for your site is essential to increasing your Domain Ranking. The Domain Ranking is a metric that backlink tools, like Ahrefs, Open Site Explorer, and Majestic, assign a website based on its credibility and trustworthiness.
You can obtain Backlinks by reaching out to other industry-related sites and offering relevant content they would want to feature on their blog or website. Backlinks can also come from PR efforts, infographics, and guest blogging.
Here's an example:
This is a blog article review from hudabeaty.com for Rihanna's Fenty Beauty launch collection. The highlighted portion is a backlink that leads directly to Fenty Beauty's homepage. This is extremely valuable for Fenty Beauty since hudabeauty is an already established and popular website with a domain ranking of 58 (which is nothing to scoff at).
You can use the free backlink research tool called Open Site Explorer to view the Domain Authority rating for your website, or any other website on the web. You can also compare the domain ratings of your beauty competitors. For more backlinking strategies and methods check out this guide by backlinko.
STEP 2: DELIGHT WITH GREAT CONTENT AND A GREAT USER EXPERIENCE
Blogging
No content plan is complete without a blog! In the beauty marketing world, a blog is a must-have for increasing your Google rankability (not sure if that's a real word, but you get the gist).
Usually, a website has a couple of main pages on their navigation menu. Each of those pages can only really rank for 1-3 target keywords, at most. But the strategic idea behind a blog is that now you can add articles, which each become their own individual pages, that can now rank for more keywords.
Let's say you had a website called uniqueeyeshadows.com. Your main menu navigation pages are as follows: About, Mattes, Shimmers, Long-Wear, Primers, Brushes, Contact, Cart
With these 8 pages, you can target about 24 keywords or phrases at most, with only 5 pages being product specific. Now, let's add a blog that posts new articles two times a week. Within a month you've added 8 new keyword possibilities, which could be words with "commercial intent", or keywords people search with the intention of making a purchase. The more pages Google has to index on your site, the better off your website will be and the more authoritative it will seem to Google (as long as you follow best practice).
When it comes to content for your blog, it all depends on your customers. Most beauty blogs feature tutorials, beauty trends, beauty news and updates as well as interviews with beauty influencers. It's all about finding what is useful and interesting to your customer base, as well as what's beneficial to your websites rankings.
If we go back to the uniqueeyeshadows.com example, blog post ideas that can help them rank can be "How to blend your eyeshadow for a casual look" or "Transitional Eyeshadow Looks to Take you from the Office to the Bar" and the like. This way, you're leading a customer through the different stages of the buyer journey until they end up in the conversion stage and want to make a purchase.
Video 
The beauty industry is visual. Big brands spend thousands on campaigns with luscious imagery and over-the-top designs to make their products stand out as desirable and unique. And with the influence of YouTube on the modern day beauty market, it's become more vital than ever to include video content of your products with actual people using them instead of making big claims about the products themselves.
Couple that with the fact that YouTube is the 2nd largest search engine in the world, it's no wonder YouTube has its own influence and SEO standards. The top two content types for the beauty community on YouTube are brand campaign videos (think Revlon's Live Boldly Campaign) and Beauty Tutorials. While the competition is fierce, it's no doubt something that consumers have come to expect. If you don't provide tutorials on your own products, other content creators on YouTube will. In other words, if you don't grab the reigns and set the stage first on the messaging of your product, the beauty community will come to their own conclusions with or without your input.
For a more in-depth dive into YouTube specific SEO that'll get you on the first page on YouTube, check out this guide.
Ecommerce Schema: 
According to OMNISTAR:
"Schema has created a standard in website coding which enables developers to provide additional information to search engines under the form of code. This information includes snippets such as reviews, pricing etc.  Schema is actually a joint initiative made by Google, Yahoo, and Microsoft. These titans have teamed up to create vocabulary that is supported on all engines. The vocabulary is extremely deep, so you should check out the full list here."
It is essentially code that allows Google to understand your website pages better. It lets it know you're trying to sell a product and that the product has reviews which can be displayed on search engine results, like so: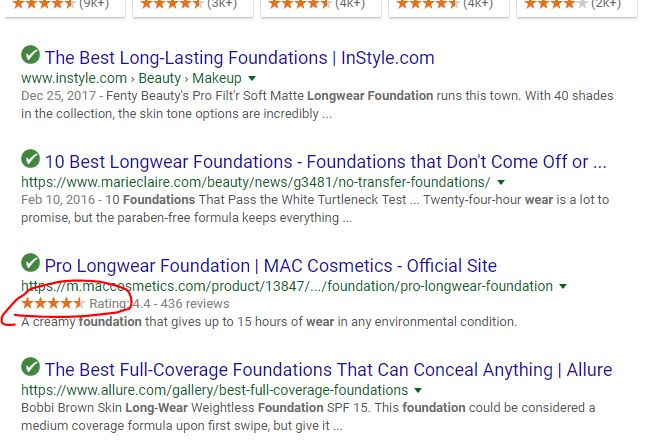 The third search result for MAC stands out against the other results, which can increase click through to your page. According to Econsultancy, 63% of customers are more likely to make a purchase from a site that has user reviews, so including review schema on your product pages can increase sales!
You can include schema for product ratings, brand model, offers, reviews, category, description and more. A tool to help you generate schema code is Google's Structured Data Mark Up Helper. If you'd like to look more deeply into applying schema structured data on your website, you can check out this guide.
Product Descriptions
In an ecommerce beauty site, the last point of sale if the product page. This is the last stop before the potential customer takes that last, wonderful step of clicking the "Add to Cart" button. If they've made it all the way over here, they're most likely ready to buy, so convince them!
Here's a great example of a product page from Urban Decay: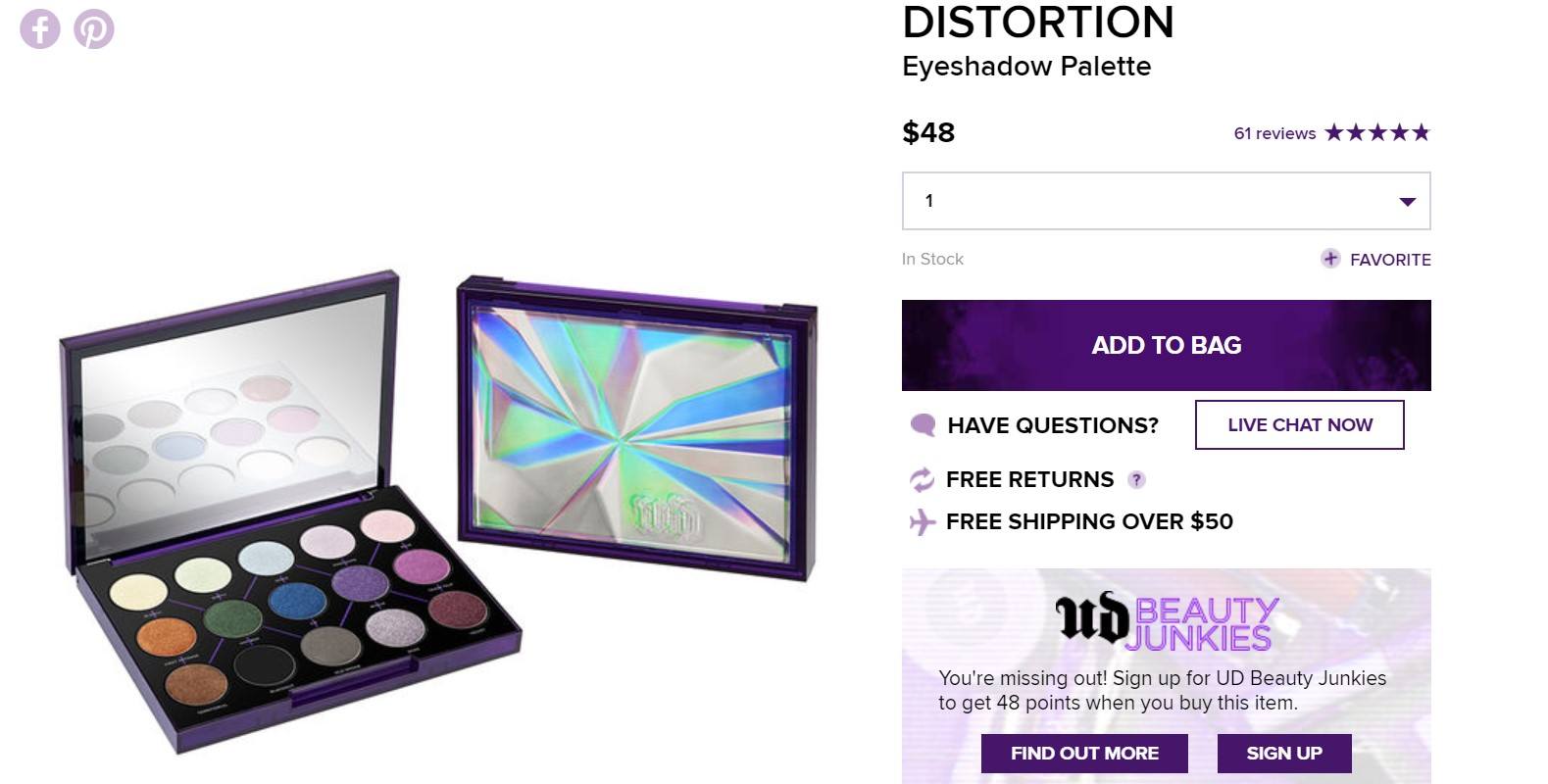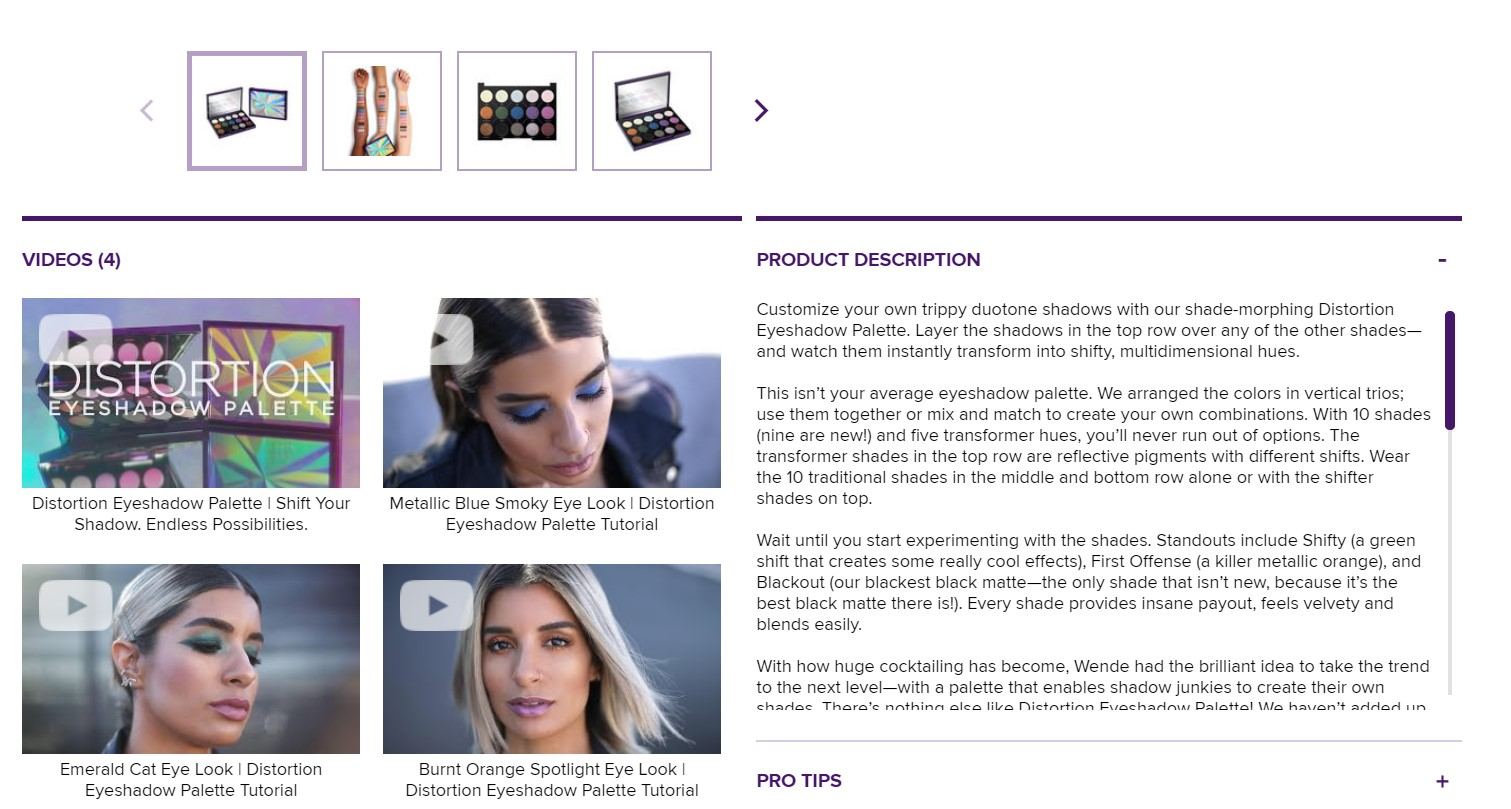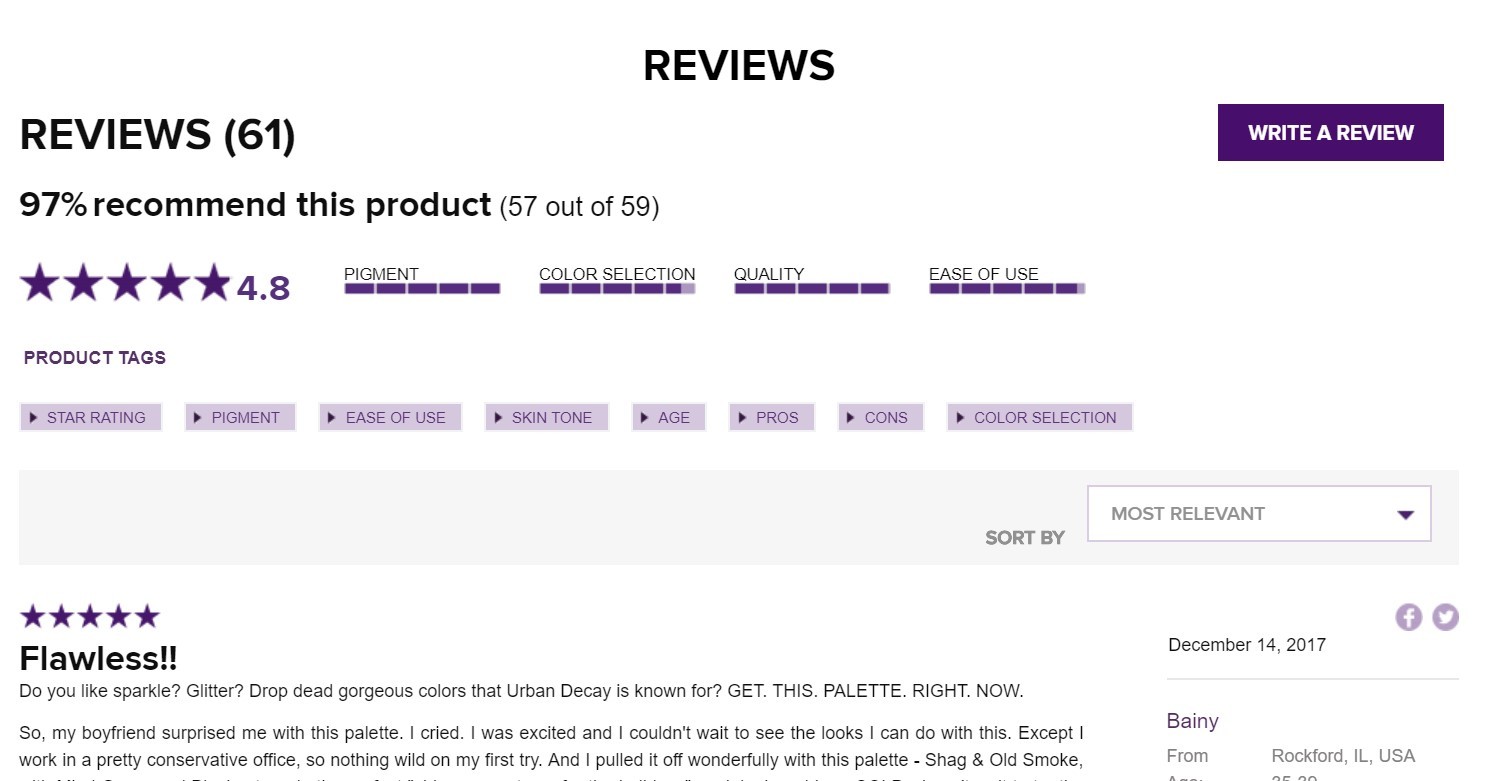 There's a lot of content on this page for good reason – everything here is made to convince you to buy. The multitudes of images, the banner for how many points you receive for making this purchase (a perfect example of the reciprocity principle in action), the tutorial videos, the long and compelling product description, and of course, tons of product reviews.
All these features on a product page are what is referred to as rich schema, and they enhance the user experience, as well as answering any deeper questions your potential customer may have. Once they place the product into their shopping cart, the next step is…
STEP 3: CONVERT BY BUILDING CONVERSION FUNNELS
What's the point of all this research, strategy and painstaking content creation at the end of the day? A sale! We want to not only make sure that people like the content we're serving them, but that the content is leading them to cart. We can optimize conversions in the following ways:
Ecommerce tracking
Ecommerce tracking allows you to track ecommerce data from your beauty website. It's essential for brands that value transaction data and want to establish the right path to maximum ROI. To see ecommerce data in Google Analytics you will need to setup and enable ecommerce tracking.
Here's a guide on how to setup and enable ecommerce tracking to your website or app:
Transaction data
Be sure to track transaction data from each shopping cart item.
Here's the developer guide on how to add and track transaction data:
Google Tag Manager
Google Tag Manager is a tag management system that allows you to quickly and easily update tags and code snippets on your website or mobile app. You can configure tags via a web-based user interface without having to alter and deploy additional code. This reduces errors and frees you from having to involve a developer whenever you need to make changes.
Here's a guide on how to setup and install Google Tag Manager.
Goal tracking
If you have makeup tutorials or a newsletter offer, you can create a thank you page as a goal to track the source of successful traffic. Setting up goals is integral to evaluating the success of your campaigns.
Here's a guide on how to setup goals in Google Analytics.
Event tracking
If you have videos, forms or buttons that lead to key information, you can track the engagement of each item by implementing event tracking.
Here's a guide on how to setup event tracking.
Remarketing
Remarketing is an effective form of paid advertising that allows you to remarket to user-defined segments of past visitors to your beauty website. For example, remarket to abandoned cart visitors as an opportunity to re-engage users with a discounted offer or reengage past buyers with similar product offerings.
Here's a guide on how to setup and install Remarketing.
Alphametic is an SEO agency based out of sunny Miami, Fl. With a team composed of SEO industry veterans, Alphametic has helped some of the biggest Beauty Brands, such as Loreal and makeup.com, find online search engine success.
Alphametic's work and ideas have been featured on Inc Magazine, eMarketer, The Next Web, Entrepreneur, Mashable, Chicago Tribune, Huffington Post, Digital Summit, Internet Summit, New York University, and Social Media Week. Contact us here.
Inquire About Alphametic's Beauty Marketing Services:
Alphametic SEO Agency Miami
150 SE 2nd Ave Suite 1411

Miami

,

FL

33131
TEL: (786) 565-2810
FAX: (612) 777-9320
[email protected]