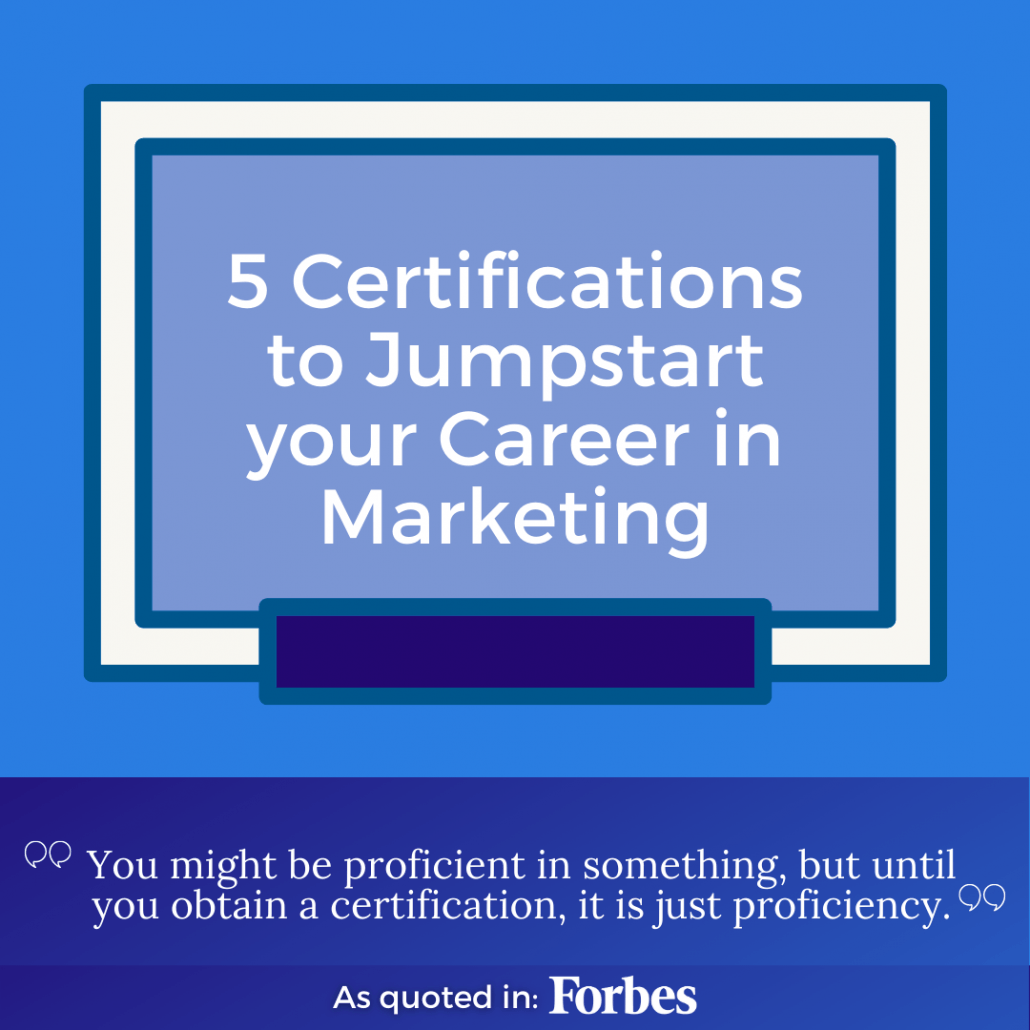 Thinking of diving into a new marketing career or simply want to expand your digital marketing skillset? In a rapidly changing industry like digital marketing, it's crucial to invest in continual learning. Marketing certifications help to broaden your knowledge on a specific subject while adding credibility to boost your CV. But with hundreds of courses and certifications out there, it can be hard to know which one to spend your time on. That's why we've gathered the five top digital marketing certifications to give you a foundation in the main disciplines: marketing theory, Google Ads, Facebook Ads, social media, and SEO. 
MarketingProfs is a well-known marketing resource that offers courses and memberships that give you access to webinars, classes, and other marketing tools. These courses focus on different skill sets that are necessary for marketing professionals to know like strategy, campaign planning, asset creation, communication and distribution, analysis and optimization, and so much more. This coursework allows you to learn all facets of marketing, giving you a solid foundation when applying to jobs.  
The Google Ads certification can help your agency gain credibility with a badge from Google that you can display on your site. Google also adds your agency to a list of Google certified companies which can lead to exposure to more clients. Since Google is the most popular search network, it's essential to show clients that you know how to manage their campaigns and get them search engine results page visibility. Even if you're not part of an agency, the Google Ads certification can help you expand and solidify your campaign management knowledge.
Facebook's Blueprint certification can help you master all things Facebook and Instagram. These courses go beyond social media strategy and can teach you skills for optimizing your business, attracting new audiences, and even how to make your ads more effective. Although Facebook's Blueprint courses are free, you have to pay for each certification exam. Even if you don't plan on getting certified, these courses are a great learning tool for getting the most out of Facebook's products. 
While Hootsuite is primarily known as a social media scheduling tool, they also offer free content and a course on social media marketing. Now more than ever brands need to have a keen social media team so these skills are valuable to employers. Hootsuite's course will help you develop foundational marketing skills to grow followers, engagement, and business results. After you pass the course exam, At the end of the course, you will receive a certificate from Hootsuite that you can add to your resume or your LinkedIn profile.
SEO is an invaluable skill because it can generate traffic and help grow a business organically. The Keyword Research Like a Pro course on Udemy will give you a basic foundation for using the keyword funnel and commercial intent to position your brand in the eyes of your consumers. This course can help you grasp a better understanding on how to search for the best keywords, gain more visibility on Google, and understand how to use keywords to optimize your website.
With these certifications under your belt, you'll have a leg up to expand your marketing repertoire.
Matthew Capala is a seasoned digital marketing executive, founder/CEO of Alphametic, a Miami-based digital marketing agency, author of "The Psychology of a Website," dynamic speaker, and entrepreneur.
https://alphametic.com/wp-content/uploads/2020/12/2-1.png
1080
1080
Matthew Capala
https://alphametic.com/wp-content/uploads/2021/01/Alphametic-Logo-Header.png
Matthew Capala
2020-12-10 16:13:21
2020-12-10 16:13:21
5 Marketing Certifications to Jumpstart your Career