17 Eye-Opening SEO Statistics to Prove the Value of Organic Search
Update: Republished June 2020 with updated statistics where available.
You already know that having a prominent online presence supported by an effective SEO strategy is indispensable. People are searching for your business, and you need to make sure they find you online. The Internet, however, is a virtually endless resource with millions of search inquiries leading consumers to different places.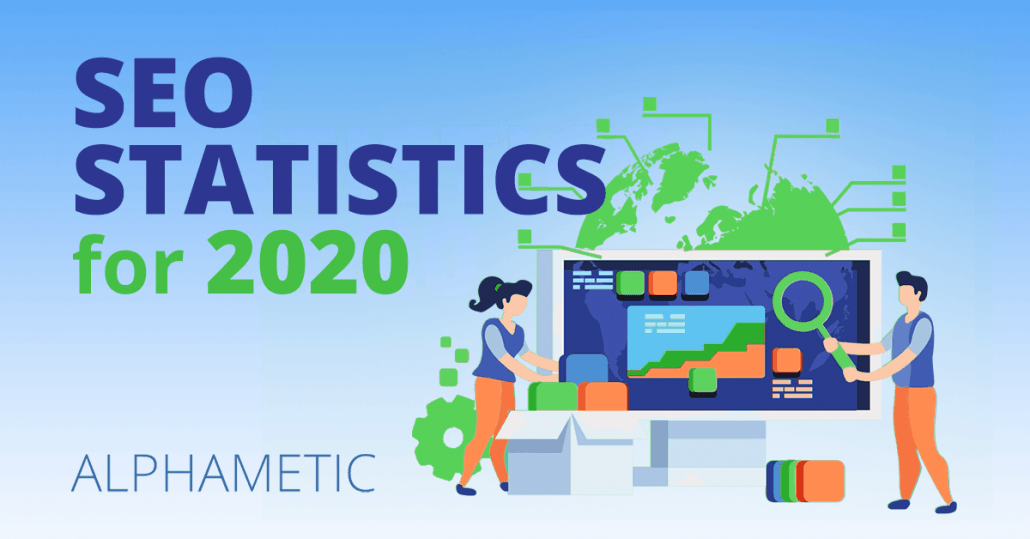 More than often, an online experience begins with a web search. Yet, how do you make sure people searching for companies and services like yours land on your website, and not someone else's? One thing you can be certain of is that you'll need to make a case to prove the value of SEO to be able to direct any of your company's resources – or client's resources – to site audits, content marketing, technical optimization, local, and backlink strategies.
With updates being done to Google's search engine algorithm continuously, deciding to craft (an execute on) an SEO strategy sounds like a lot of work. How do you convince your boss or client that it's worth it? Is keeping up with Google really that important? Yes. Being on Google's good side, and making it to the front page, will impact your business tremendously. And what about other search engines? What is the value of being searchable? Do you show up online?
To help you make a better case for SEO to justify the value of organic search, I've compiled a list of eye-opening SEO statistics about organic search, Google facts, and the Internet at large. Be free to use them, tweet them, embed them, or insert them into your own presentation.
Check them out, and show them to your boss:
Globally, Google's search market share reaches 92%
Source: StatCounter , 2020

To no surprise, Google is the leading search engine worldwide. Anyone you're trying to reach, anywhere they might be, Google is your best bet towards generating an impression of your product and brand across borders. Except in China and a few other countries, Google is the dominant search engine. Other search engines get a smaller share of consumer traffic, which you can see in our Global Search Engine Market Share infographic. 
As of June 2020, Google owns 88% of the search engine market share in the US
Source: StatCounter

In the US, people use Google more than Bing, Yahoo, and all the other search engines combined. The term "Google it" is popular for a reason. In a study conducted by ComScore, out of a total of 17.5 billion searches conducted in one month, 11.2 billion of them were conducted through Google. Bing follows second with just 3.7 billion, and Yahoo with 2.2 billion.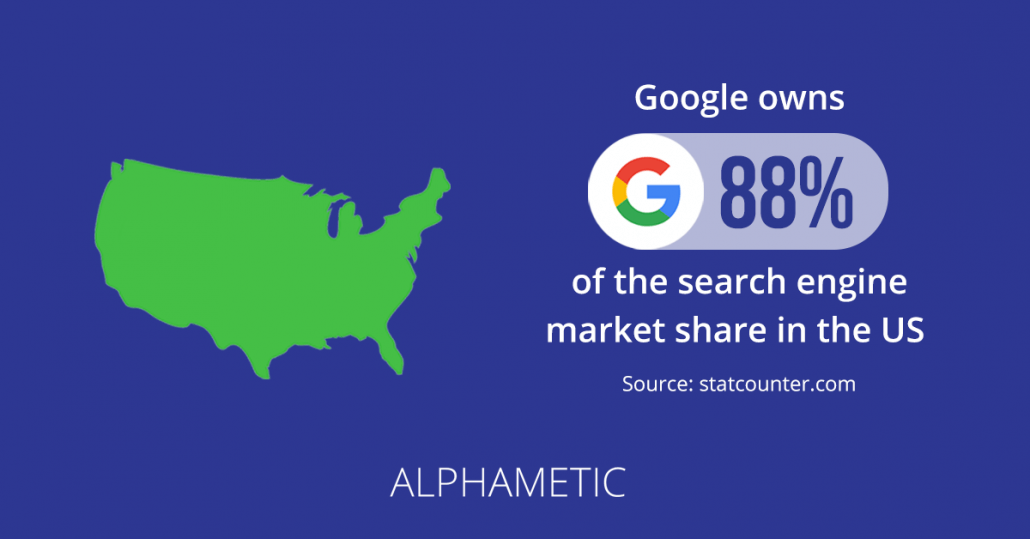 There are more than 3.8 million Google searches conducted each minute
Source: SEO Tribunal, 2018

Have you Googled something today? With over 5.6 billion searches conducted a day, odds are that you have. It might have been that very search that led you here. Back when Google launched in 1995, users were conducting just 500,000 searches per day. Today, this statistic has more than quadrupled. The growth of organic search traffic has been growing consistently.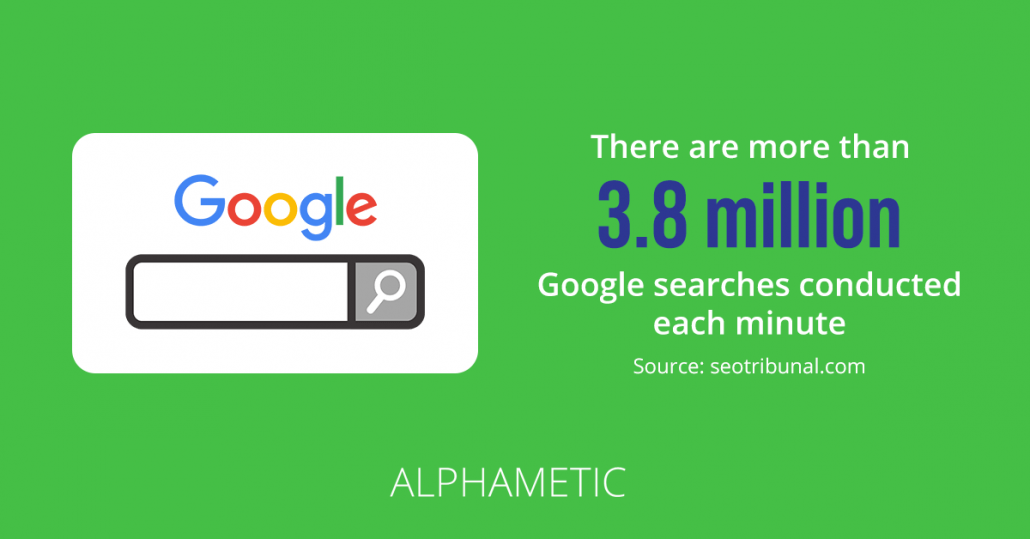 When Google went down for 5 minutes, global Internet traffic dropped by a whopping 40%
Source: CNET, 2013

It seems like the Internet really does revolve around Google. In 2013, Google's services were unavailable for only 5 minutes due to an outage, and web traffic dropped by 40%. Google is the heart and soul of the Internet. How important is your Google presence and global web traffic? Very.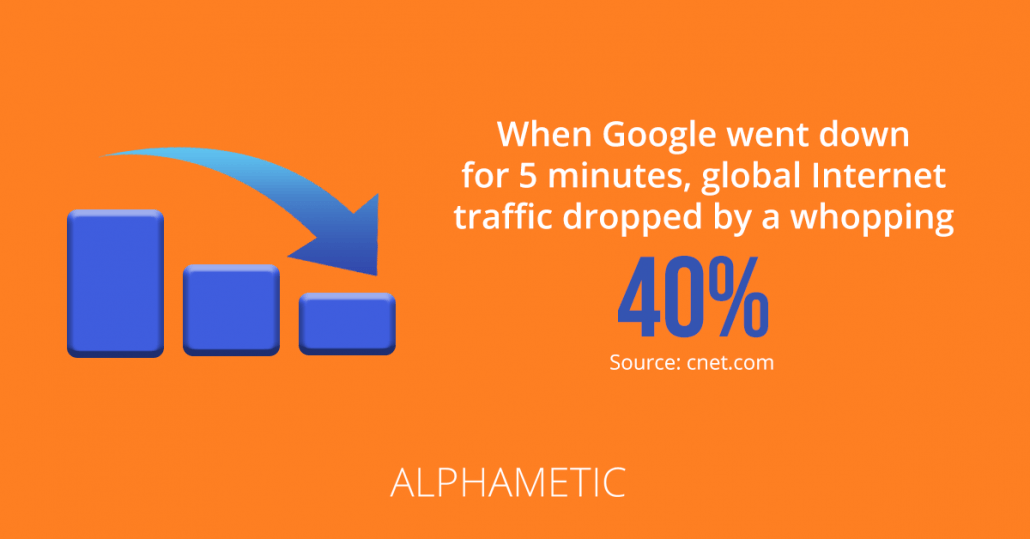 15% of all Google searches are being searched for the first time
Source: Search Engine Land, 2017

How does Google answer questions that have never been asked before? Through extensive indexing, site crawling and millions of search precedents. Never before asked queries are more common than you'd think. Marketers should think about how to fashion their content strategy so that they find the right balance between targeting ultra-competitive, established keywords as well as the less popular queries that are 'on the rise.' Use Google Trends to find these niche golden nuggets.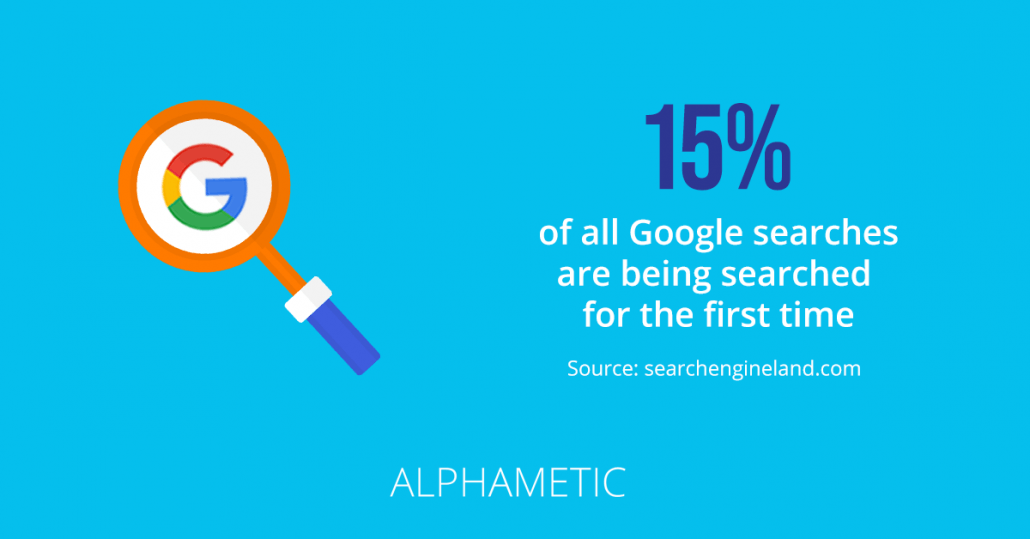 High-quality content and link building are the two most important signals used by Google to rank your website for search
Source: Search Engine Watch, 2016

There's definitely a correlation between longer content and Google ranking. Moz's study found that the most popular pages had over 35,000 words and generated more than 800 links. Google prefers well-written and longer content over those that are more superficial and short. Don't get lazy on that blog! Articles over 1,000 words might just fare better SEO wise.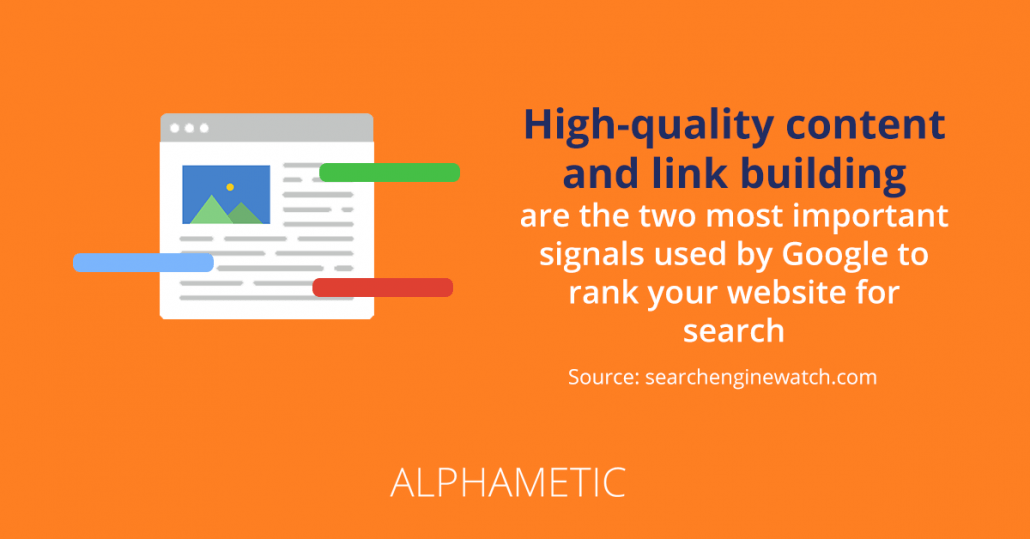 On the first page alone, the first five organic results account for 67.6% of all the clicks.
Source: Impact , 2020

Does anyone ever go to the second page of Google? Very rarely. Your website's ranking in search results is of utmost importance for traffic. If visitors aren't even scrolling past the first five results on the SERP, you have to use SEO to try to rank in those positions.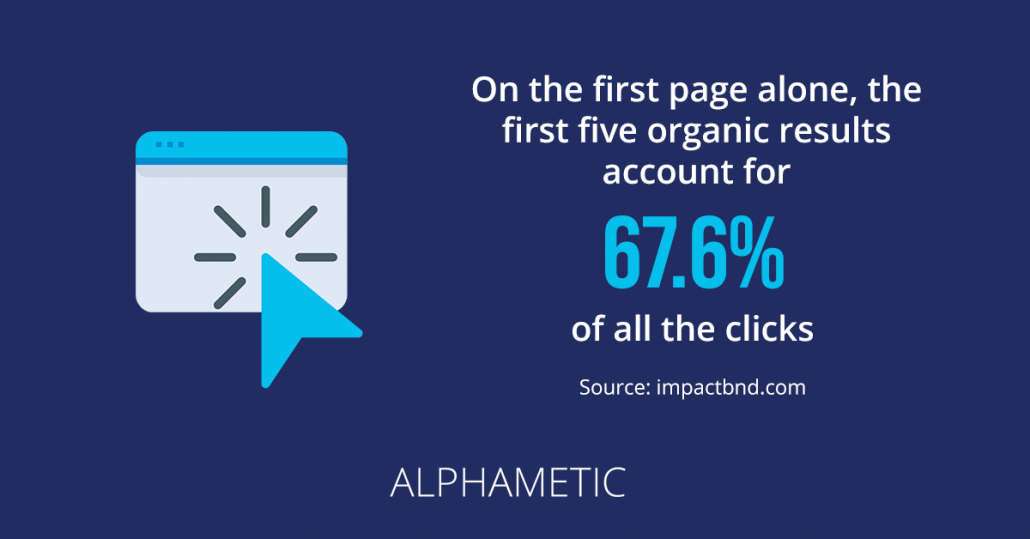 53% of website traffic comes from organic search results
Source: BrightEdge, 2019

How are people getting to your site? They're Googling their way there. Chances are, more than half of your web traffic started with a search. According to a study conducted by BrightEdge, over 40% of revenue is captured through organic search traffic. Social only accounts for merely 10% of web traffic, and paid search just 10%.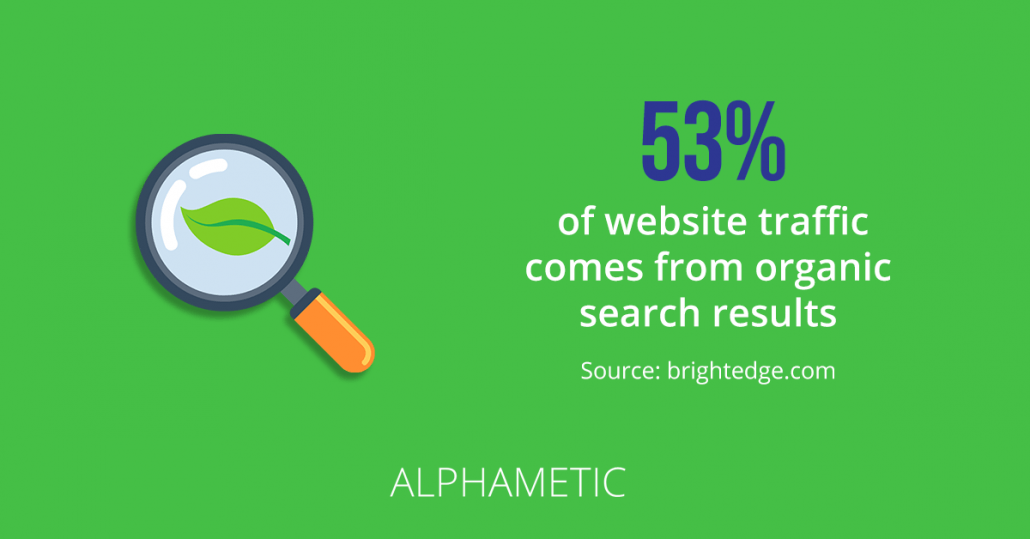 Users focus on organic search results 94% of the time
Source: Search Engine Watch, 2012

There is good news for those reluctant to invest in a Google Ads account. According to Search Engine Watch, organic results fare better than paid ads. The higher you rank, the more clicks you get, and paid ads don't count. Users tend to ignore the advertisements on top of the page and go straight to the organic search results listed first.
Updating existing content with fresh content can increase organic traffic by 111.3%
Source: Safari Digital, 2019

Update blog content, sit back and watch the impact this will have on your SEO. Old blog posts can still have valuable content so don't put those to waste! Optimizing older articles ensures that all your content will help rank your website higher on Google while giving your audiences updated information. In fact, this is an article we are updating to be able to give you the top SEO tips and statistics of 2020!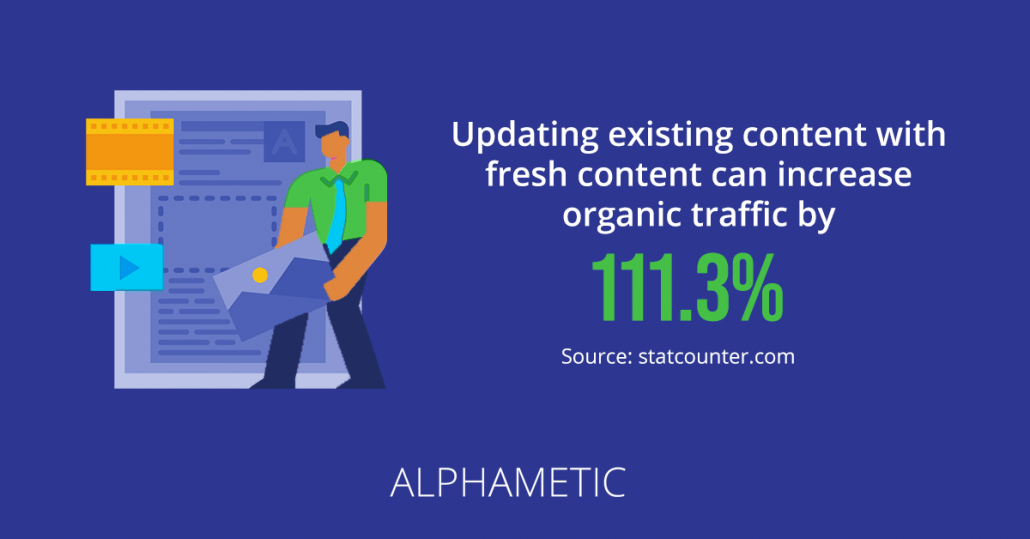 Web-users exposed to slow loading times will conduct fewer searches on average
Source: Google, 2009

This is according to studies conducted at Google using their search engine. Speed matters. Even after rectifying a low speed, users will be reluctant to return to your website. Get rid of anything that hinders your website's speed. Music players, flashy graphics, and unnecessarily large images will stagnate loading time. Google has a few tips on how to fix a slow website.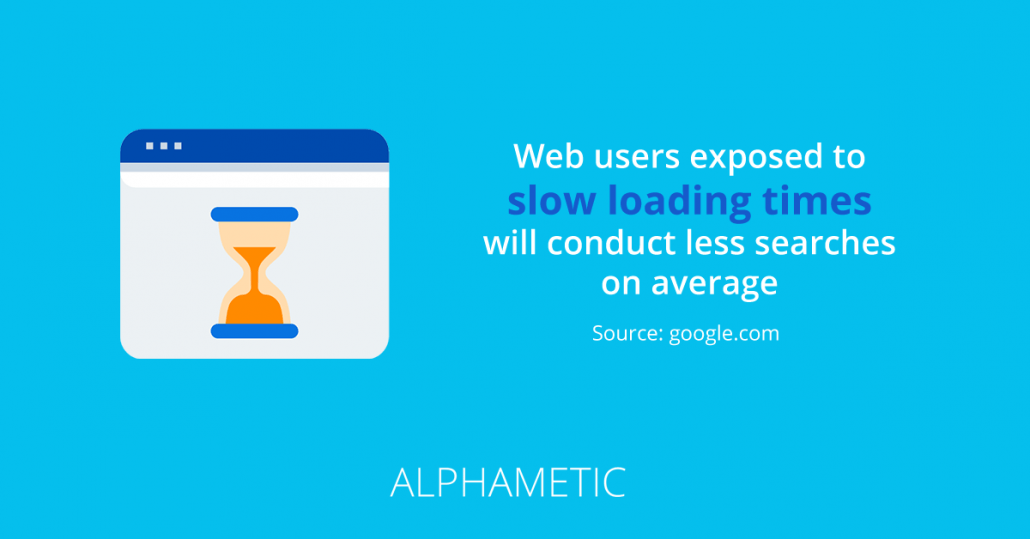 63% of Google's US organic search traffic originated from mobile devices 
Source: Merkleinc,2020

Smartphones and tablets have become the new prime way to communicate and access information. According to The Verge, more people are searching on mobile devices than ever before. Google has updated its SEO algorithm based on the increase in smartphone and tablet usage. In the world of mobile-first indexing, a website that isn't optimized for mobile is missing out on ranking opportunities.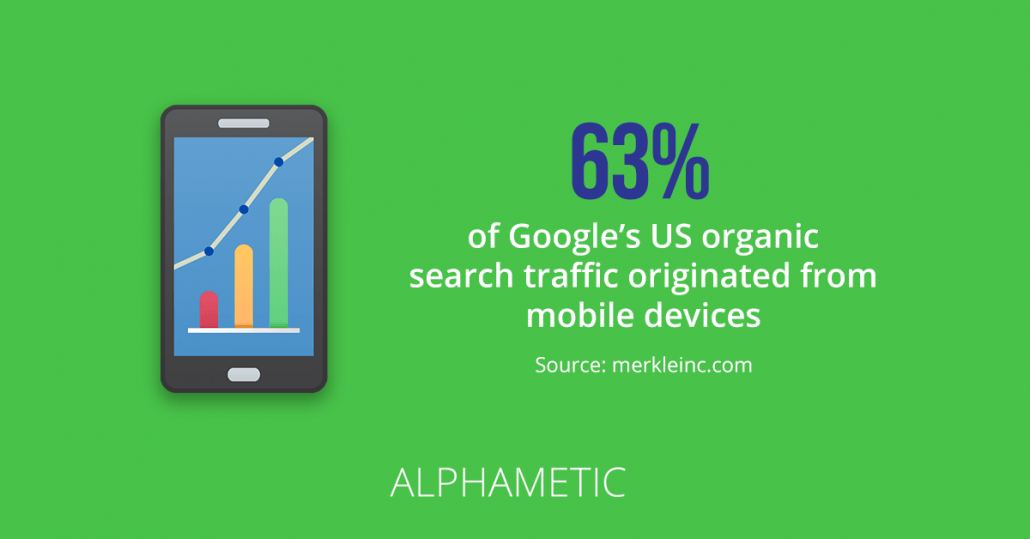 88% percent of smartphone users are using their device to conduct a search on Google
Source: Think With Google, 2014

In company with the previous statistic, is the fact that the majority of cellphone users use their phones to conduct searches. According to the report Understanding Consumers' Local Search Behavior, 88% of smartphones perform searches, making the need for a mobile-friendly website crucial. People are searching on the go, and are looking for local results. Google is looking to provide the most practical, precise and relevant local search results through their regularly updated mobile-friendly ranking algorithm. Make sure to optimize your local listings with a smart local search marketing plan.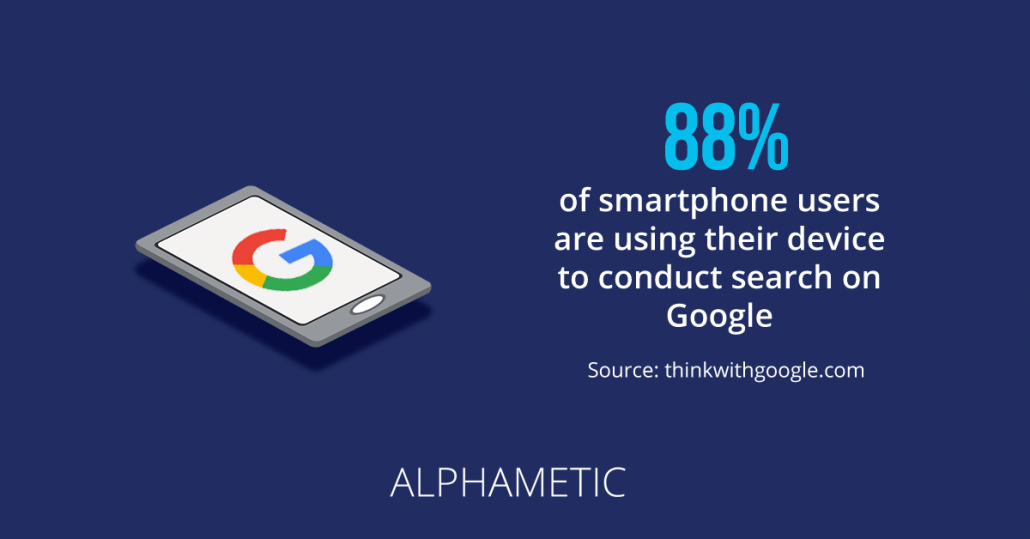 Sites that did not switch to mobile-friendly platforms were hit with a hefty 50%+ traffic reduction penalty. 
Source: Gist, 2019

According to a study conducted by BrightEdge shortly after Google's mobile algorithm update in 2017, the presence of non-mobile friendly websites on the first 3 pages of Google began to fade fast. Over 20,000 websites were tested and scored for mobile-friendliness, and then had their ranks recorded. A 21% decrease in ranking was found for those URLs scoring low in mobile-friendliness.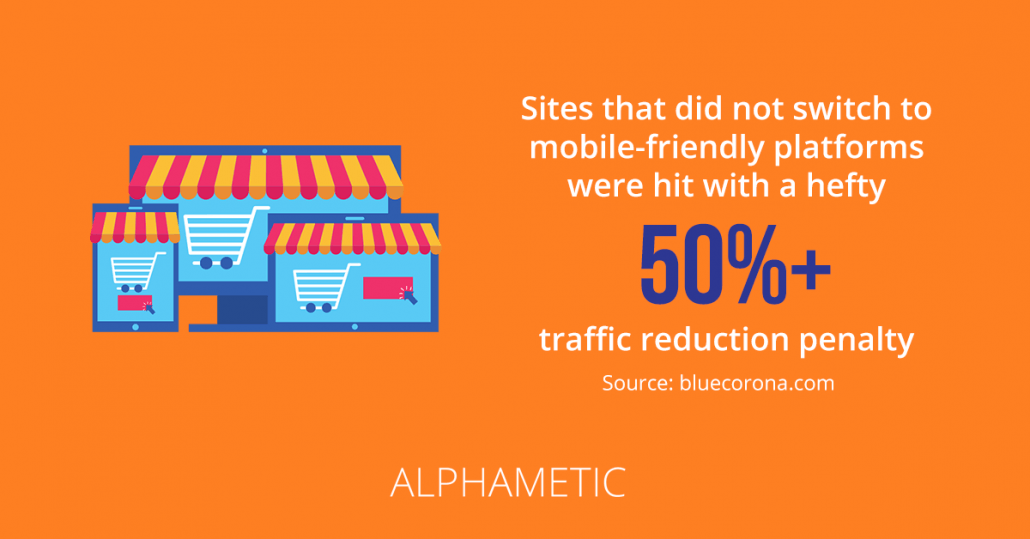 88% of searches for local businesses on a mobile device either call or visit the business within 24 hours.
Source: Nectafy, 2019

Having a mobile-friendly website is super important because people searching on their phones are more likely to visit your store or call on that very day. While 50% of mobile phone users will visit your store after conducting a search, only 34% of users searching on tablets and computers will do so.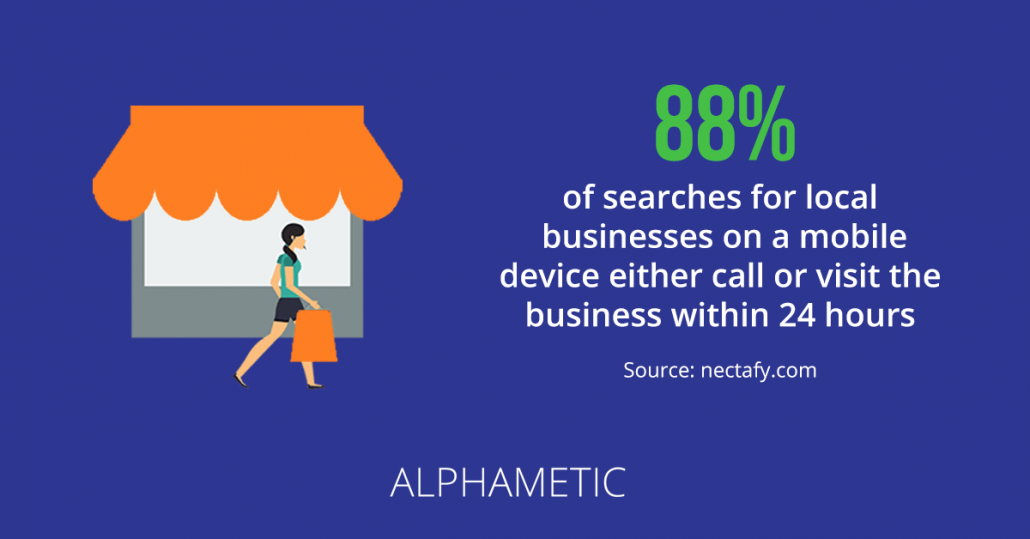 18% of local smartphone searches led to a purchase within a day
Source: Think with Google, 2014

In contrast, only 7% of non-local searches lead to purchases on the same day. Capturing the local search market through SEO is a smart strategy. Potential customers and clients are searching, so you have to lure them to your website. If you have a locally-focused business, you need to show up highly on Google Maps, and other local directories.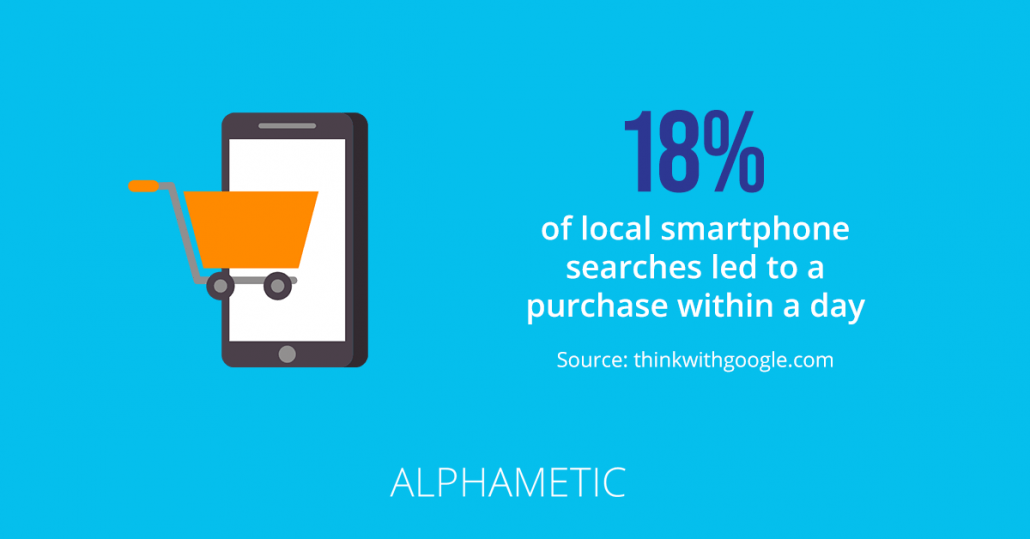 Local searches result in purchases 28% of the time
Source: Search Engine Land, 2020

People aren't just Googling the latest cat video. They're looking for the best store, the best product and the best service near them, and for them. With the power to Google, consumers are behind the wheel of their purchases and investments, and as we've learned, they never really go past the first page. So does "the best decision" = a high Google search ranking? To an extent, absolutely.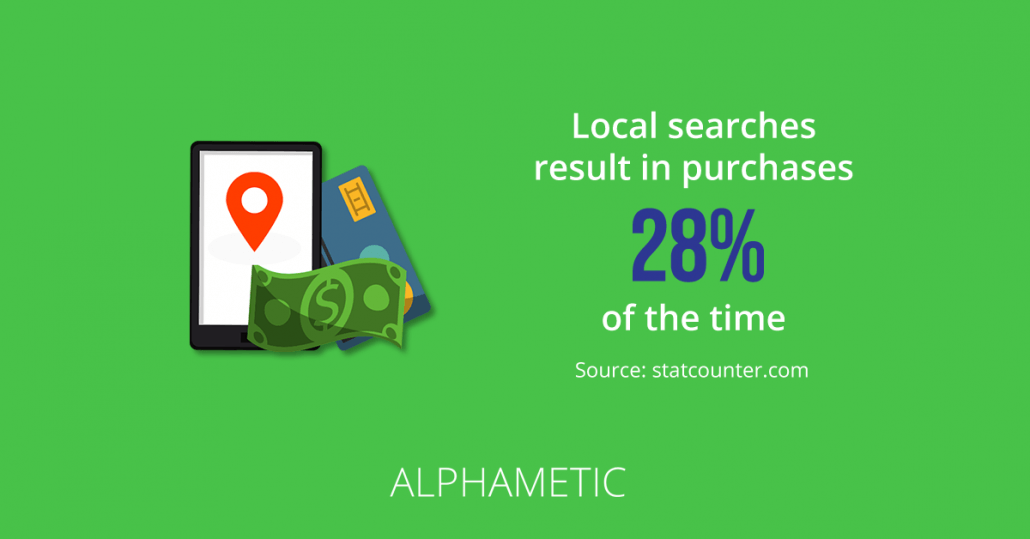 Hope the list is helpful! Have I missed any other important SEO statistics? Please drop me a note in the comments below.
Matthew Capala is a seasoned digital marketing executive, founder/CEO of Alphametic, a Miami-based digital marketing agency, author of "The Psychology of a Website," dynamic speaker, and entrepreneur.
https://alphametic.com/wp-content/uploads/2020/07/SEO-statistics-511x414-cover.png
414
511
Matthew Capala
https://alphametic.com/wp-content/uploads/2021/01/Alphametic-Logo-Header.png
Matthew Capala
2020-06-30 17:19:16
2020-07-27 19:08:36
17 Eye-Opening SEO Statistics to Prove the Value of Organic Search