19 Actionable Growth Strategies to 10X Your Business
The New York Times Bestselling author and self-made multimillionaire Grant Cardone came to the Hollywood Diplomat and led a seminar called 10X, bringing together some of the most notable minds in business growth of the 21st century. Renowned thought leaders assembled to listen to Fortune 500 CEO's, internet legends, motivational speakers, and marketing moguls deliver the messages that changed their lives and will prove game changers for your business.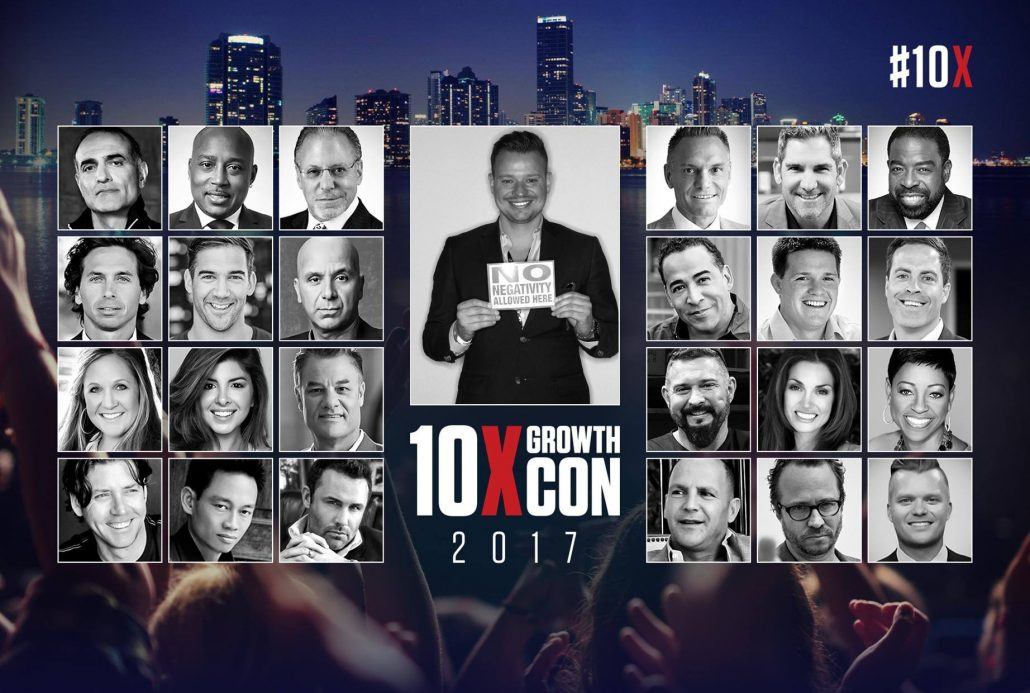 The program focused on taking advantage of overlooked opportunities, no matter the economic climate, and putting yourself in front of the right audiences without fear. Many insights reminded me of moments in my own journey to success. As an immigrant, a solopreneur was my natural business state.  Upon entrance into SEO and marketing, without an extended family or business "family" or team to entrust duties to, I alone was accountable for every detail and deliverable.
I grew in business and as an individual in the United States, understanding two things. 1. Trust in yourself and then in your team, is the only way to grow your business. 2. Your team is only as strong as your weakest link. When you apply the personal growth and team-oriented insights provided below and taken from the 10X seminar, you will create success in all areas of your life, not just your online and SEO business. This event rejuvenated and inspired me to deliver 10X the value to myself, my team, and my clients.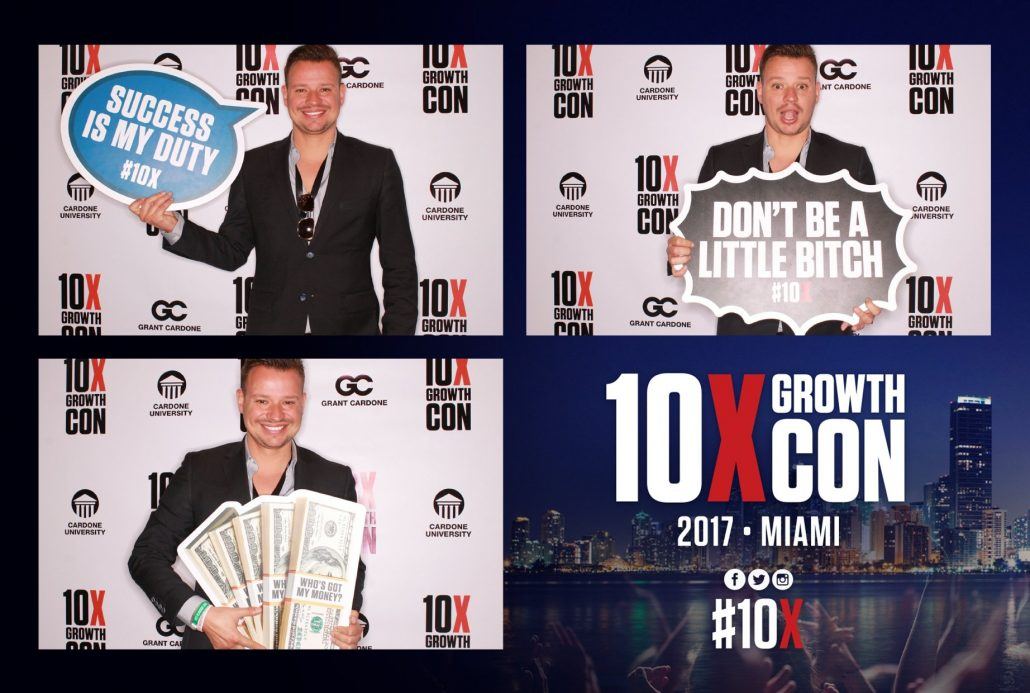 BUILD A TEAM THAT WILL PUSH YOU UP – TOM CUMMINS
Tom Cummins is the CEO and President of American Power and Gas , whose sales exceed $150 million per year and business experienced 400% growth in the past 3 years,  making his lecture regarding team building very compelling. The nexus of his speech was valued. In order to lead effectively and build a successful team, surround yourself with members who you feel have a value that you do not. Add value to your own. Unless you are in a business where you have a software that makes money when you sleep, you need a team that will pull double duty. An honest, authentic, and valuable team member will push you up by showing you value in situations and solutions to problems set forth.
CORE VALUES AND COMPANY CULTURE IS THE FOUNDATION – JACK JJ  JACKINTELLE
JJ Jackintelle is president and COO of Rick Case automotive group and has generated over $1.5 billion in sales in the last year alone. Rick Case has a large presence near the Search Decoder HQ and spoke on company culture and core values.
In my transition from digital nomad to team leader, I learned the value of a company culture and establishment of core values.  As a soloprenuer, the buck stopped at me, success was wholly dependent on my input, but I was stifled. In order to grow, I needed to trust others and empower them to be accountable for their actions within the team. You are your company culture and you have to lead by example. When the core values are adhered to and the company culture is intact, nothing can stop the revenues.
NON-REFUNDABLE MINUTES – VALUE YOUR TIME!!! – BOBBY CASTRO
Bobby Castro is a co-founder of Bankers Healthcare Group and an expert in commercial finance. Castro delivered advice on time management and I have followed his path to success closely. His message on minutes hit close to home. In the beginning of speaking career, I used to respond to every email and phone call. This created an imbalance in my business and ultimately it inspired the online schools and seminars.  I could not physically or mentally meet my audience need and had to put a price and value on my time.
Bobby Castro illustrated this point brilliantly. Your services or product should be manageable to the point of growth that you need another of you, rather than another business angle.  If you are still micromanaging and being accountable for all parts, you are not valuing your time. If you are not valuing your time, you are not valuing yourself and are not yet ready to make the transition to team leader yet. Your minutes, your time, and your life is non-refundable, value every minute and second of it. Guard your time and these minutes as fiercely as your bottom line.
HOW TO GET PEOPLE TO SELL FOR YOU, IS THROUGH WORD OF MOUTH – JAY ABRAHAM
The best way to get people to sell for you is not to sell to them; BUT to motivate them, inspire them, hire them. It is very easy in the preliminary stages of business development and hiring to sell your company to someone you are hiring. Expecting a new hire to be similarly inspired by your vision is the exception, not the rule. Motivation is found largely through solid reward systems or goals. Inspiration is like an aha moment in a sales pitch where both the seller and buyer find a common ground, realizing they need each other and the deal is made, then you will be able to leverage these sales into referrals.
WORD OF MOUTH IS 80% OF SALES AND ADS ARE 20% –  JAY ABRAHAM
Sell to people you know. This is the very easiest tenet of sales. Psychology wise, people know when they are being sold. Public relations campaigns are effective for this reason because your business is mentioned from a trusted source, the news. If you are just starting out, a multi-million dollar or even several thousand dollars a month retainer for a PR firm is out of the question. Word of mouth is the oldest sales technique and operates mostly on trust. Trust inspires confidence and a good reputation. Social Media is word of mouth in the pure sense, however, has become advertising. Authentically employed, with high-value content, social media is the digital word of mouth. Getting out in public, meeting people, volunteering, joining groups that work cooperatively with your business, these all are micro conversions in the word of mouth world. They lead up to macro conversion in business.
THE ONLY WAY TO MAKE MONEY IS TO EITHER SOLVE PROBLEMS OR HELP PEOPLE- RUSSELL BRUNSON
Russell Brunson is the founder of ClickFunnels. ClickFunnels have arguably changed the way small businesses have approached the online checkout system and their revenue streams.
What do you need? How can I help? You need to know why people need a product. If your product or service does not answer either of these questions, you need to refine your model or mission. In the digital arena, you may think, but people are not actually asking for help? Seeking and asking is slightly different and should be treated differently. Regardless of seeking or asking, the response is the same, a buy. An in-person sale is easier since nonverbal communication comes more naturally to sales personnel, however with the proper digital conversion strategy the micro to macro conversions can be simple with the proper tools. However, if you do not have a product that does not help or solve, you will need to go back to the drawing board. A good rule of thumb is if you cannot explain the need or solution your business solves in under two minutes, you might need to go back to the drawing board.
LIFE IS A SERIES OF MENTORS – GET A MENTOR. DELIVER VALUE TO MENTOR, ASK NOTHING IN RETURN, GET THE SECOND MEETING – DAYMOND JOHN
Daymond John is one of the most prolific investors, mentors, and businessmen, and appears on Shark Tank with enormous success and appeal. John is a key motivator in my own business. My mentors have always been physically and spiritually accomplished individuals, who are not afraid to challenge me at periods of my personal development.
Choose someone who is not afraid to tell you that you are wrong. Someone who will not use any of your fears against you. Someone who can challenge you against yourself. Keep in mind your mentor can change, mentors are people too, and can be lessons. Your relationship to your mentor is like a relationship to your first large client, you deliver excellent value to him or her, ask for nothing in return, and hope that you can provide service or see them again. Soliciting advice, especially from a source that you value and trust, is an honor and should be treated with integrity and honesty. A good mentor will be able to see and guide you to the best possible scenario for your own growth and the good of your business.
IT'S EASIER TO PLAY BIG THAN IT IS TO PLAY SMALL – GRANT CARDONE
Grant Cardone  is the nexus of the 10X. He is an entrepreneur with a television channel, series of webinars, and leader in leadership. Cardone delivered the message that the business you run should be as easy to run whether it is big or small. Running any size business, be it a website or a service, should not be too complicated to handle growth or you will lose efficacy. Effective systems handle big and small businesses by design. Investing in a team that builds corporate culture and trust is one of the keys, in addition to organization and a solid chain of responsibility. When the call for a large order comes, the whole team can handle it just as smoothly as a small order.
WHAT YOU DO EVERYDAY WILL DETERMINE YOUR WEALTH AND SUCCESS, HOW YOU TREAT PEOPLE IN PERSON AND ONLINE. BE KIND TO PEOPLE.- DANIELLE DELGADO
Danielle Delgado is an international mentor, strategist, and leader in the training of the mind. She advises the elite on how to build successful habits.  It only takes three weeks for something to become a habit. Three weeks of your life to make a change, that can change the trajectory of your entire business. The power of these edits is pretty remarkable. Every day try treating people in person and online like they are the success you want to achieve. Treat every micro conversion like it is a macro conversion, then watch success unfold.
UPSELL YOUR PRODUCT, BUNDLE, STACK THE VALUE – CLICK FUNNELS- RUSSELL BRUNSON
Russell Brunson revolutionized the digital marketplace with ClickFunnels.  The ClickFunnel operates top-down bringing your product next to complimentary products in an online checkout lane. The words bundle, stack, and upsell, are counterintuitive, since the way a click funnel works is you make a product or service very easy to find. If you are buying a vacuum, it stands to reason that you would want extra vacuum bags on the side. ClickFunnel the vacuum bags into your online cart. It is that simple, and brilliant.
DON'T TRY TO OUTTHINK SUCCESSFUL PEOPLE, MODEL THEM- RUSSELL BRUNSON
Russell Brunson expanded slightly on Grant Cardone's message regarding playing big and playing small, regarding expansion. I would love to have thought of ClickFunnels, but I did not, I am an SEO Expert. Play to your own talents, but model yourself after a mentor or business success story. Identify their patterns of behavior and positive attributes. Do not try to outsmart the industry guru. Become a guru in your own industry, with your mentors discipline or other traits. If you replace one negative repetitive thought in addition to adding a positive model trait and practice that instead, you notice a change in your business.
WHAT IS YOUR WHY? YOUR ABILITY TO PRESENT AND TELL A STORY BREAKS ALL THE ODDS – LES BROWN
Les Brown is a legendary motivational speaker who has inspired thousands to achieve their potential including Fortune 500 Companies, non-profits, and celebrities. His message is about being transparent and staying true to yourself. Where there is a need for a service, there is going to be a service. There will always be competition, however, there is only one of you. Your story, your narrative is unique to you. How you came to your business model, who you admire, your mentors, your successes, your failures, your past, and your future are unique, and that is your competitive edge. Tell your narrative in a compelling way that connects to your customer and provides the service they need, and you will have a client for life.
SOCIAL SELLING – SOCIAL TRIGGERS / SPHERE OF INFLUENCE – FIND YOUR TOP HAPPY CLIENTS ON LINKEDIN AND SEE WHO THEY ARE CONNECTED TO ETC.- JAMIE SHANKS 
Jamie Shanks is the CEO of Sales for Life, the worlds largest selling training tool for mid-level training. He has trained companies such as Oracle, Thomson Reuters, Intel, Direct Energy and more and is an author and coach of leveraging your contacts. By having your LinkedIn contacts reach out to their contacts, with referrals, your chances at success are exponentially higher than advertising or digital marketing. You can gauge quickly what a client or business is be looking for as well, based on their linked in profile.
Social media selling evolved very quickly, since it is free and easy, however it has become saturated by "experts." Businesses or freelance marketers will sell you services based on delivered impressions for Facebook and Twitter, however, in order to obtain measurable ROI, you need the conversion. Directly marketing to friends of friends offers you more analytics than any expert could provide.
I FOUND OUT ALL THE BUSINESS SECRETS WHEN I STARTED REALLY LISTENING- LEWIS HOWES
Lewis Howes is one of the most influential authors on leadership, has one of the most successful podcasts online, and is one of the most successful online webinar training programs on success in the world. He is a former professional football player and national handball player, and his success is predicated on very basic ideals.  Listen to clients. Listen to your employees. Listen to your mentors. Then ask questions. I find not only insights into what drives consumers to seek out products and services, but also trends in what keywords are on the top of their minds. In today's world, where people are constantly on their devices, talking and listening is more important than ever. When is the last time you asked a question and really listened?
MANY PEOPLE KNOW HOW TO START ONLY- FEW KNOW HOW TO FINISH- TIM GROVER
Tim Grover is a legend in his work inspiring some of the most accomplished individuals overcoming fear in this century. His success stories include Hall of Famers  Michael Jordan, Kobe Bryant, and Dwyane Wade and he is an international speaker and author with authority in the science and art of physical and mental dominance.  With so many projects in the pipeline at the office, finishing a project to completion can sometimes be put on the backburner. In many primary and secondary school curriculums, this timeline and expectation is requisite and understood as the step to get to the next level of achievement. As you grow to hold more responsibilities, with family and a business, this step of completion can be lost. If we slow down and introduce it, we have a greater success at inspiring our team and increasing our production and revenue. Think about one goal, then perform action steps over a period of time, attaining that goal, celebrating that goal, and moving on. The digital mindset has so many moving parts, this linear framework may not come naturally, but it too can have a beginning, middle, and end.
THE ABILITY TO REPEAT GREATNESS OVER AND OVER IS A SKILL BETTER THEN NONE – TIM GROVER
Do not be a one-hit wonder. Develop models of behavior and creative ways of solving problems, and watch greatness unfold. When you have achieved greatness, recreate it. As your skill set evolves and you can handle larger clients or orders and challenges are a matter of growing demand. The secret to developing continued success in the first place is overcoming the fear of failure. The fear of failure is overcome by patterning your behavior doing those exact things you are scared of. You conquer the fear and pattern that behavior.
THERE IS NO JOY IN REMAINING, GROWING BIG WILL ALLOW YOU TO HAVE CHOICES- TIM GROVER
Develop one discipline, but many income flows. I became an expert in SEO and leveraging free online tools. I consistently mastered the latest algorithms and developed ways of communicating this information to entrepreneurs, as well as implement the information within a B2B agency environment. I enjoy multiple flows in income from my workshops, ebooks, speaking engagements, online courses, seminars, and agency clients, but in one discipline. Change is welcome in my organization and thrived upon. It is the only constant and it is the comfort in change that will help you find success, overcome fear, and allow you to grow. It is your choice  how to diversify, but remain true to your purpose and what you are best at.
NEVER RELY ON ONE THING, ALWAYS MULTIPLE FLOWS – GRANT CARDONE 
Detaching from the idea of one product or service has been a very valuable concept in marketing and SEO from the very beginning at Search Decoder and Alphametic.  The winds of internet change are constantly blowing and there will always be competition. If you are relying on one thing, one idea, etc, then you disallow creativity or other flows to come through with your focus. Multiple flows keep you moving, and business positively leveraged. Like winds or the seasons, businesses are predictably cyclical. My books, seminars, and internet schools serve unique purposes and drive revenue at certain times depending on the revenue flows. Additionally, with your goal setting, beginning middle and ends, you have several of these projects going and some will end quickly and you can move on without feeling like these are failures, they are just a flow that is a non start, you are devoting more resources in another direction.
MOST PEOPLE GIVING JUST ENOUGH, GIVE 10X VALUE – GRANT CARDONE
Do not just give people what they want, give it to them ten times. Infomercials have a wonderful way of delivering this message with the tagline, but wait, there is more, and then they add a bathrobe to your order of about 15 Ginzu knives, you could have a bathrobe for 5 easy payments of $15, but they just got you with the bathrobe. If you are offering so much value in terms of information and customer service, there is no reason for your client to want to go elsewhere for their services or product.
This article appeared originally on SearchDecoder. 
Matthew Capala is a seasoned digital marketing executive, founder/CEO of Alphametic, a Miami-based digital marketing agency, author of "The Psychology of a Website," dynamic speaker, and entrepreneur.
https://alphametic.com/wp-content/uploads/2018/01/10x-growth-con-speakers.jpg
1240
1844
Matthew Capala
https://alphametic.com/wp-content/uploads/2021/01/Alphametic-Logo-Header.png
Matthew Capala
2018-01-12 19:28:16
2019-02-12 21:13:42
19 Actionable Growth Strategies to 10X Your Business