Dorie Clark's 3 Hacks to Become a Bonafide Expert in Your Niche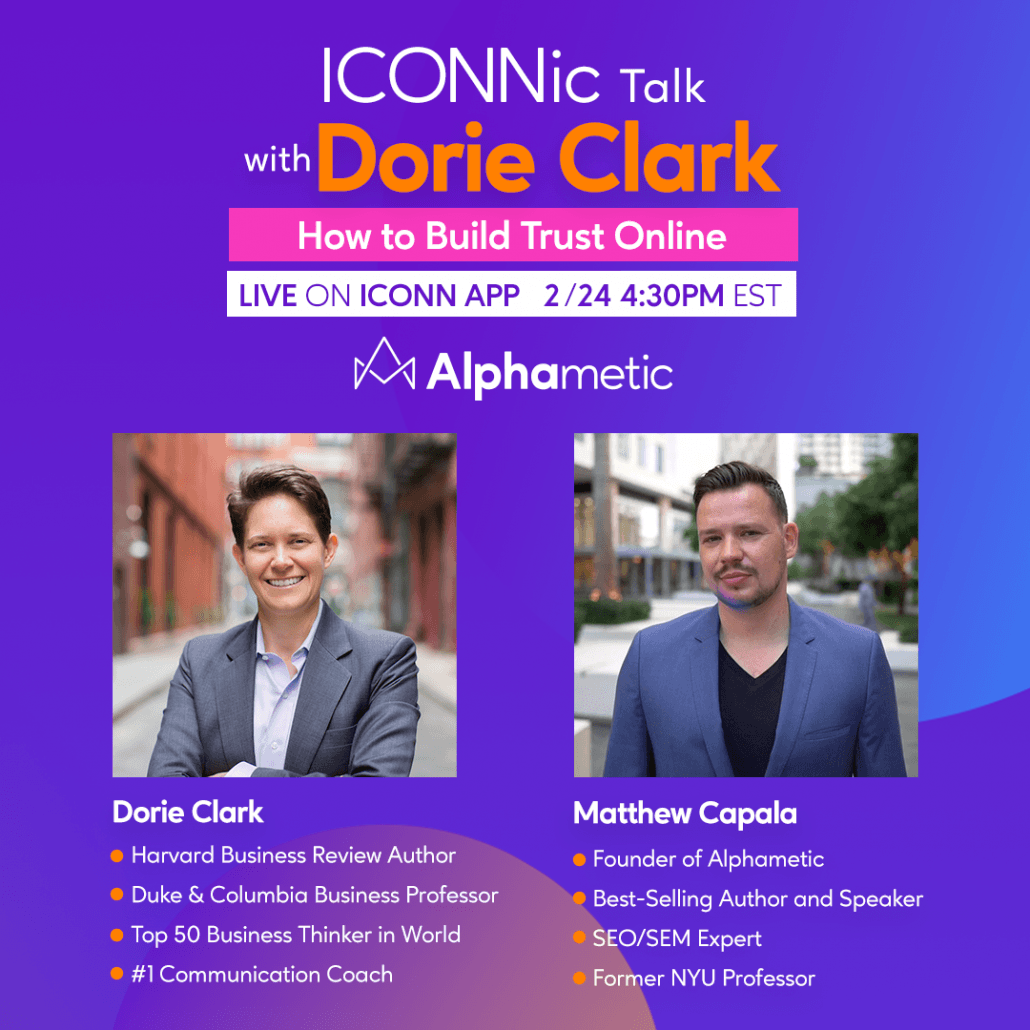 Expertise can help you get trust, recognition, and credibility. But how does one achieve expertise? When can one be considered a true expert? 
I recently sat down with Dorie Clark to discuss my upcoming book, The Psychology of a Website: Mastering Cognitive Biases, Conversion Triggers, and Modern SEO for Massive Results. Dorie is a Harvard Business Review Author, Duke & Columbia Business Professor, #1 Communication Coach, and one of the top 50 Business Thinkers in the World. Throughout the interview, she shared insightful tips on what it means to be an expert and how you can become one.
My interview with Dorie was part of my ICONNic Talk series, where I sit down with industry experts to get insider tips on social media, marketing psychology, and much more. Check out my interview with Ja Rule and other ICONNic Talks interviews. 
Being an expert isn't just about a title; when you're a true expert, you're seen as a go-to thought leader in your field. During the interview, Dorie and I discussed the fascinating psychology behind what makes other people consider someone an expert. Dorie shared with us some hacks on how you can position yourself as an expert in the eyes of others.
Create Valuable Content
To position yourself as an expert, Dorie advised, you need to create content. Social media is a great tool to share your thoughts and ideas with a community of people who gain value from your content. Start by jumping on social platforms that fit your field and start creating content that will bring value to your audience. This way, you can share your opinions, foster a community, and build a portfolio of valuable content.
Professional reinvention is the key to career longevity and content can help push you to reinvent your personal brand or business. New content ideas or joining up-and-coming social platforms can help you make a habit of reinvention. Create different types of content to help you pivot your brand to explore new business ventures and opportunities. Content is your #1 tool when it comes to reinventing yourself, so don't be scared to step outside of your comfort zone.
For more of Dorie's tips on professional reinvention, watch the full ICONNic Talk interview: 
Leverage Social Proof
Throughout my talk with Dorie, we kept coming back to social proof as a primary factor in positioning yourself as an expert. On Dorie's website, her call-to-action invites people to "join her community of 60,000 subscribers." This is an excellent example of social proof because it showcases how many people value her opinions enough to subscribe to her newsletter and, in a way, persuades you to do the same. 
In my book, The Psychology of a Website, I advise readers to add testimonials and reviews front-and-center on their website to trigger the social proof cognitive bias. Whether it's reviews, testimonials, or press, social proof is a sure-fire way to establish validity that you are an expert.
Network with Other Experts
Positioning yourself as an expert also has to do with associating yourself with other experts in your field. The more you talk with other experts, the more knowledge you can gain. Being associated with experts in your field can also lend you a sense of authority in the eyes of others. Reach out to someone you admire in your field, and see if you can schedule an interview with them on ICONN or Instagram Live.
No one is born an expert. By admitting that you aren't an expert yet but are working towards becoming one, you can free yourself from imposter syndrome and focus on establishing credibility and respect. Leverage these credibility-boosting hacks to establish yourself as an expert in your field.
Check out my upcoming book The Psychology of a Website: Mastering Cognitive Biases, Conversion Triggers, and Modern SEO for Massive Results to learn more about social proof and other topics discussed in my ICONNic talks. Get on the list at websitepsy.com
Matthew Capala is a seasoned digital marketing executive, founder/CEO of Alphametic, a Miami-based digital marketing agency, author of "The Psychology of a Website," dynamic speaker, and entrepreneur.
https://alphametic.com/wp-content/uploads/2021/03/Iconnic-Dorie-2.png
1080
1080
Matthew Capala
https://alphametic.com/wp-content/uploads/2021/01/Alphametic-Logo-Header.png
Matthew Capala
2021-03-17 20:12:53
2021-03-17 20:12:53
Dorie Clark's 3 Hacks to Become a Bonafide Expert in Your Niche