4 Reasons to Love Rank Ranger for SEO
When it comes to SEO tools, there's too many to count. SEMRush, Moz, Majestic, AHrefs, Ubersuggest, Keyword Planner, Screaming Frog, keywords.io, Answer the Public, and on and on and on…
One of the struggles that every SEO faces is how to organize all this information and report on data. A hodgepodge of charts and graphs from various tools with completely different API's is not the most effective, or time-efficient, way of reporting data. 
Recently, we had the opportunity to review a tool which seemed too good to be true. Why? Because it meant that I could reduce my daily open tab number from twenty, to just one. Imagine, only needing one tab to view all the data you need for all your clients!
This tool does many things, but here are the four main reasons why I love Rank Ranger: 
Fast, Easy Set-Up of Keyword Campaigns
The rank tracker tool for keyword tracking is much easier to set up and more powerful than any tool I've used before. Their easy to use upload sheet has you input the keyword, as well as a corresponding "tag" for each keyword. For example:
Keyword: SEM Services
Tag: Alphametic – SEM
Keyword: search engine market share
Tag: Alphametic – Blog
You can then create reports ONLY for a specific tag. If I wanted to separate all SEM keywords and view position changes and corresponding landing pages, I just filter the "Rank Tracking" report by keyword tag.
And one of the best features is that tracking a keyword on mobile and desktop doesn't count as two keywords. You not only extend the value of whichever package you choose, but it makes the setup much less complicated, since you can filter all charts by search engine device as well.

One Stop Shop Reporting
Automation and time management. I just customize one dashboard and everything is at my fingertips.
For example, they allow each campaign to have a "Marketing Dashboard". You can create multiple tabs, all connected to different tools.
For Example:
Here, I have Google Search Console, Google Analytics, Keyword position tracking, and a competitor report all in one tab. You can also connect Google Ads, and Google my Business to this report.
More Competitive Data
The competitor analysis tool is more advanced than any other tools I've used. You're able to compare yourself to competitors at the keyword and landing page level, as well as having a more crystal clear dashboard to view keyword gaps. Typically, you have to set up a campaign or a project to view this data in other tools if you want to compare yourself to a specific competitor, but Rank Ranger let's you see keyword data from the get go.
Here is how the keyword tracking looks when you set up your keywords and designate a competitor:
Also, when doing initial research, not only can you see which keywords a competitor ranks for, but which keywords you have in common, and which landing pages the keywords correspond to. 
Unlimited Customization
Almost unlimited customization and report functionality. I have yet to look for a feature or type of filtering for a report that I couldn't do.
As an example, I wanted to view every single kind of chart/ data point I viewed for a client in one place. For example, at Alphametic, we like to filter out the blog landing pages from the rest of the site, as well as the specific industry guides we have created to evaluate their individual performance for the last month:
In one place, I have a tab for google search console report, google analytic reports, Rank tracking, and more with the exact filtering I need. You can also add paid search data and local GMB data in these reports if you have local clients.
Sometimes, I just want to see keyword performance for the whole website:
Top Overall Landing Pages: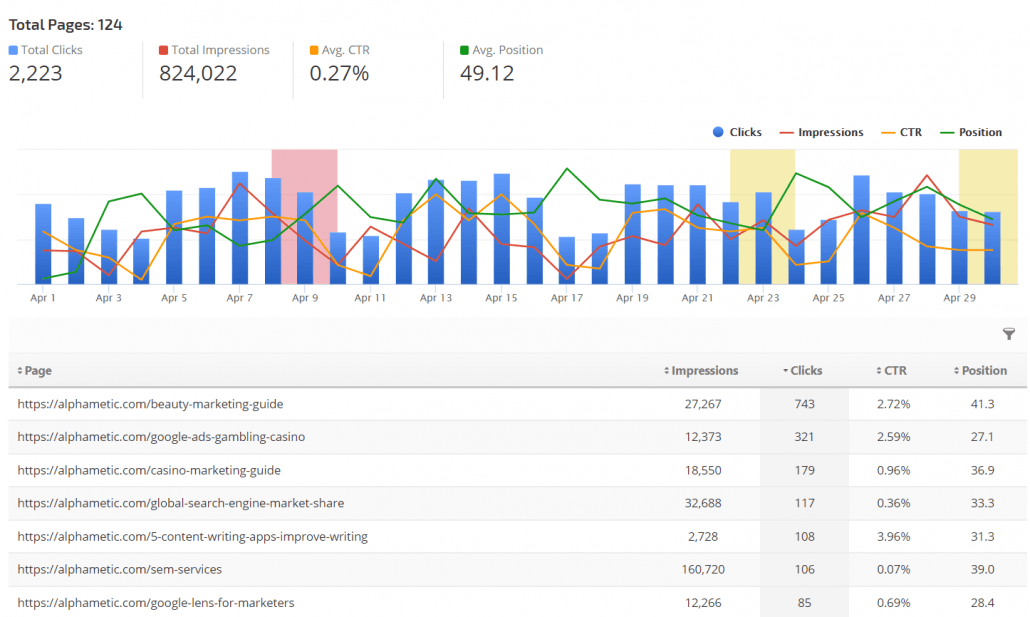 Usually, I would have to filter everything in search console and have analytics open in a separate tab, but with these reporting features I can create a template for the marketing dashboard, then set it and forget it. 
Where this tool really stands out is on scaling. I was able to create a one-stop shop report for myself as an account manager for a specific client. But what do I do with the rest of my clients?
Easy. I copy the template, save it, and it can be automatically applied to every other client you have within Rank Ranger
Let's say you want to give a client a customized reporting dashboard. You can also change the look of the dashboard to whatever you like through their development services. They also have code input features for you to update the HTML and CSS files: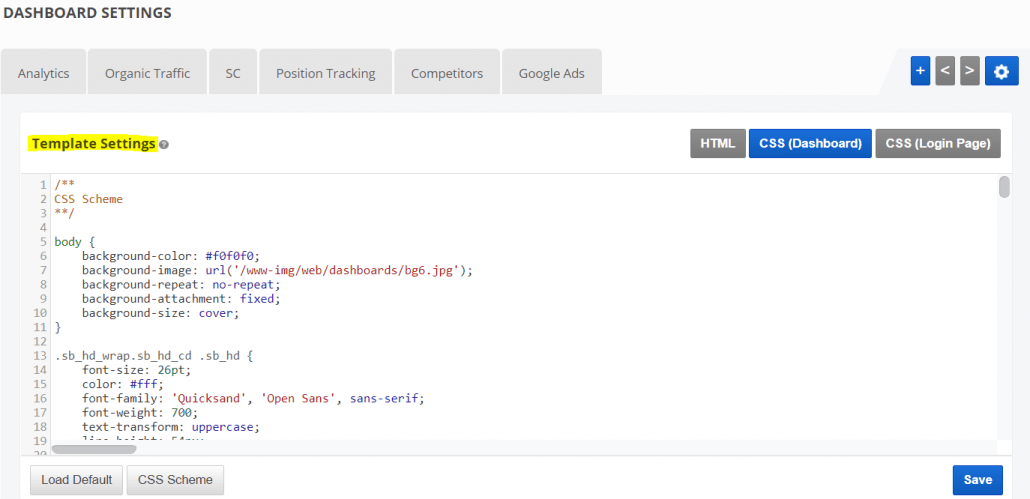 Within Rank Ranger, you can upload a new client and have them plugged in under 20 minutes. You just have to connect their google tools, add the templates you created and voila! They're set up!
In summary, Rank Ranger is a powerful tool which allows you to get more done at a greater value than many SEO tools currently on the market. They have some limitations when it comes to non-English keywords for example and their keyword research tool is not expansive, but if you're an analyst or account manager that is constantly having to go to several tools to look at all the data you need, Rank Ranger can streamline your entire process. 
Matthew Capala is a seasoned digital marketing executive, founder/CEO of Alphametic, a Miami-based digital marketing agency, author of "The Psychology of a Website," dynamic speaker, and entrepreneur.
https://alphametic.com/wp-content/uploads/2021/07/Alphametic_RankRanger_4ReasonsSEO_v3_01.png
1080
1080
Matthew Capala
https://alphametic.com/wp-content/uploads/2021/01/Alphametic-Logo-Header.png
Matthew Capala
2021-07-06 15:28:53
2021-07-06 15:28:53
4 Reasons to Love Rank Ranger for SEO