Every once in awhile, a book hits the shelves and shakes up the world in a way that changes our collective imagination.
In the digital marketing world, these usually include books that inspire, and teach, all us marketers out there who are just trying to make that positive ROI happen.
At Alphametic, we have a reading list of books we think are the most relevant to read at the moment that will help us reach our day-to-day goals. Our criteria are 1) Recency and 2) Relevance! The books below have either 4.5 or 5 stars on Amazon, are tied to digital marketing in some way, are RECENT and most importantly, interesting! As we embark on our reading journey, we wanted to share this list with you.
Without further ado, 8 recent digital marketing books you can't miss!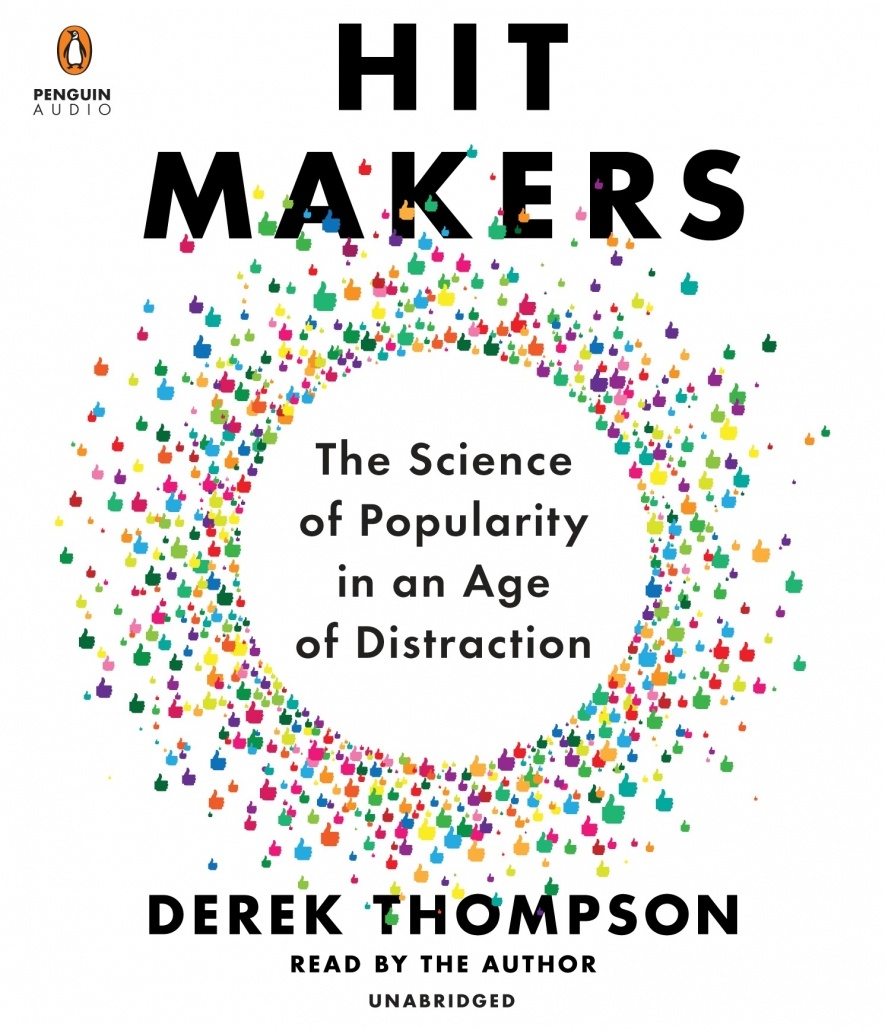 4.5 Stars on Amazon
This "National Bestseller" from 2018 gets at the nitty-gritty of what makes something "viral" and why "going viral" is actually a myth! Since this book doesn't just focus on advertising campaigns, but also other cultural phenomena, like the rise of Facebook and why so many blockbusters are sequels and reboots. It gives a holistic view of the cultural market that can (and will) influence your content marketing.
Here's an excerpt taken from the Amazon summary:
"In his groundbreaking investigation, Atlantic senior editor Derek Thompson uncovers the hidden psychology of why we like what we like and reveals the economics of cultural markets that invisibly shape our lives. Shattering the sentimental myths of hit-making that dominate pop culture and business, Thompson shows quality is insufficient for success, nobody has "good taste," and some of the most popular products in history were one bad break away from utter failure. It may be a new world, but there are some enduring truths to what audiences and consumers want. People love a familiar surprise: a product that is bold, yet sneakily recognizable."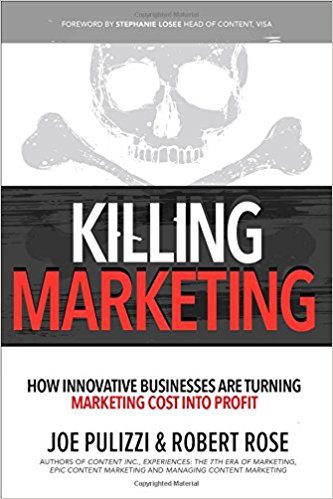 4.5 Stars on Amazon
Written by two top marketing experts, the founder of the Content Marketing Institute and the founder of The Content Advisory – this book claims to reshape the way you think about your marketing efforts. If you're in a  slump about how to use content in your marketing plan, this book is DEFINITELY worth a go.
Here's an excerpt taken from the Amazon summary:
"Killing Marketing provides the insight, approaches, and examples you need to understand these disruptive forces in ways that turn your marketing from cost center to revenue creator. This book builds the case for, literally, transforming the purpose of marketing within your organization. Joe Pulizzi and Robert Rose of the Content Marketing Institute show how leading companies are able sell the very content that propels their marketing strategy. "
5 Stars on Amazon
This one is all about branding and how to keep your business' name "Top of Mind" in your particular industry. The founder of Influence & Co., John Hall, gives you a step-by-step guide on how to deliver the best content in front of the right people.
Here's an excerpt taken from the Amazon summary:
"Whether you're a marketing leader engaging an audience of potential customers, a business leader looking to humanize your company brand, or an industry up-and-comer seeking to build influence, maintaining a prominent spot in your audience's minds will increase the likelihood that the moment they need to make a choice, you'll be the first one they call. There's no better way to drive opportunities that result in increased revenue and growth."
4.5 Stars on Amazon
Have you ever just…ignored a bad review? Said to yourself "you know what, I have so many other good reviews that this will be a drop in the bucket of my business' awesomeness". This book tells you why you SHOULDN'T do that and how to turn those haters into happy customers.
Here's an excerpt taken from the Amazon summary:
"Whether you work for a mom-and-pop store or a global brand, you will have haters—and you can't afford to ignore them. Baer's insights and tactics will teach you how to embrace complaints, put haters to work for you, and turn bad news into good outcomes."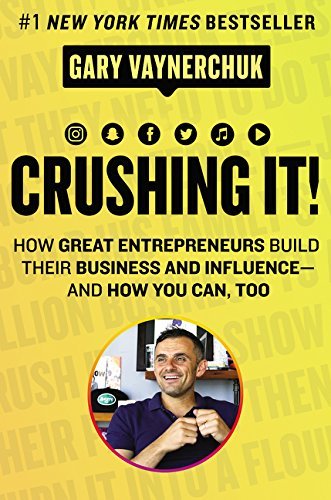 4.5 Stars on Amazon
Usually, anything by Gary Vaynerchuk needs no introduction, but we'll do it anyway. Gary Vaynerchuk is a well-known and well-respected social media marketing guru and this book seeks to help anyone with an idea in their mind "Crush" their goals through personal branding. If you want tips for utilizing different social platforms and other social media tips and tricks, this is the boom for you.
Here's an excerpt taken from the Amazon summary:
"In this lively, practical, and inspiring book, Gary dissects every current major social media platform so that anyone, from a plumber to a professional ice skater, will know exactly how to amplify his or her personal brand on each. He offers both theoretical and tactical advice on how to become the biggest thing on old standbys like Twitter, Facebook, YouTube, Instagram, Pinterest, and Snapchat; podcast platforms like Spotify, Soundcloud, iHeartRadio, and iTunes; and other emerging platforms such as Musical.ly. For those with more experience, Crushing It! illuminates some little-known nuances and provides innovative tips and clever tweaks proven to enhance more common tried-and-true strategies."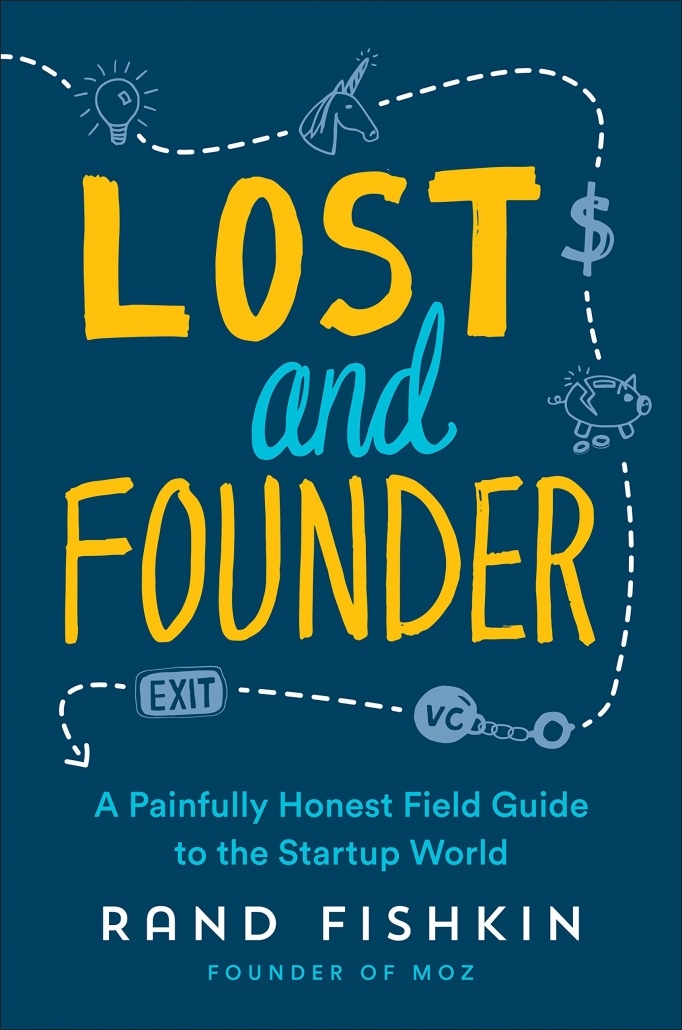 5 Stars on Amazon
The title says it all – this leading expert on SEO gives an honest overview of what it was like to begin a tech startup and all the up's and down's along the way. If you are someone struggling with the "Hustle Blues", or just an up and coming entrepreneur, this book can be the pick me up you need.
Here's an excerpt taken from the Amazon summary:
"Fishkin's hard-won lessons are applicable to any kind of business environment. Up or down the chain of command, at both early stage startups and mature companies, whether your trajectory is riding high or down in the dumps: this book can help solve your problems, and make you feel less alone for having them."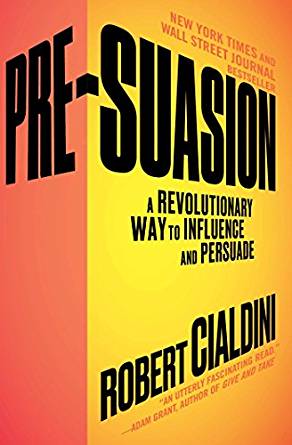 4.5 Stars on Amazon
Robert Cialdini is the mind behind "Influence: The Psychology of Persuasion" which was wildly successful and explained the 6 principles of persuasion, determined by his years of research on the topic. In this sequel-of-sorts, he goes into how to prime individuals into being receptive to whatever message you're trying to communicate. There are obvious implications to advertising in this book, but it also works on different levels of life. Whether you're negotiating a raise, trying to impress a CEO or convincing your kids that you don't need to get another puppy …this book is a must-read.
Here's an excerpt taken from the Amazon summary:
"What separates effective communicators from truly successful persuaders? With the same rigorous scientific research and accessibility that made his Influence an iconic bestseller, Robert Cialdini explains how to prepare people to be receptive to a message before they experience it. Optimal persuasion is achieved only through optimal pre-suasion. In other words, to change "minds" a pre-suader must also change "states of mind."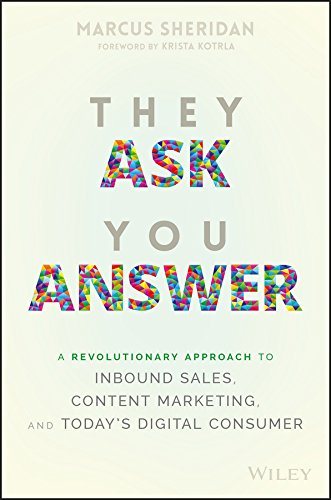 5 Stars on Amazon
This book was written by a pool company founder who discovered the magic of internet marketing after the 2008 financial crisis and grew his business to be the leading Pool Installer company in the United States. How did he do it? By answering questions.
Here's an excerpt taken from the Amazon summary:
"They Ask You Answer is a straightforward guide to fixing your current marketing strategy. Regardless of your budget, you are almost certainly overspending on television, radio, and print ads, yet neglecting the number-one resource you have at your disposal: the Internet. Content marketing is no longer about keyword-stuffing and link-building; in fact, using those tactics today gets your page shuffled to the bottom of the heap. Quality content is the key to success, and you already have the ingredients in-house. This book shows you how to structure an effective content strategy using the same proven principles that have revolutionized marketing for all types of businesses, across industries."
Matthew Capala is a seasoned digital marketing executive, founder/CEO of Alphametic, a Miami-based digital marketing agency, author of "The Psychology of a Website," dynamic speaker, and entrepreneur.
https://alphametic.com/wp-content/uploads/2018/06/8-recent-digital-marketing-books-insta-2.jpg
788
940
Matthew Capala
https://alphametic.com/wp-content/uploads/2021/01/Alphametic-Logo-Header.png
Matthew Capala
2018-06-27 08:35:03
2019-02-12 21:10:09
8 Recent Digital Marketing Books for Your 2018 Reading List