6 New Social Media Apps to Explore to Gain a First-Mover Advantage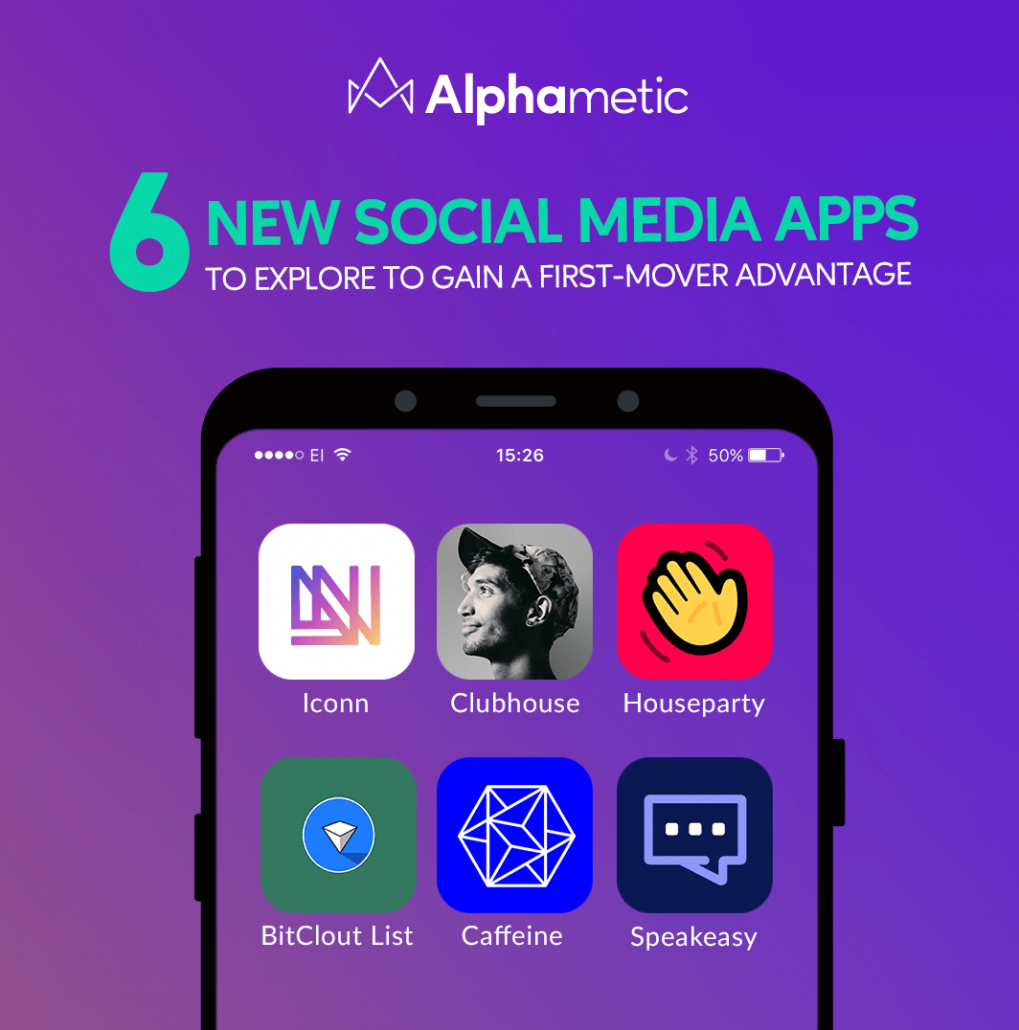 To successfully play the game of social media, you need to be keen on which new social platform will soon dominate the online world. Being the first on-trend for a new social media app gives you an advantage because you have more visibility and less noise, giving you the opportunity to grow your profile and become a popular creator. With so many apps released on the app store every day, it's hard to know which apps are worth creating a profile. We've compiled a list of new social media apps you need to explore so you can gain a first-mover advantage before they become the latest must-have social network. 
Iconn Live was founded by celebrity rapper and entrepreneur Ja Rule. The app's premise is to get fans connected with their favorite artist in a new and innovative way. On Iconn, fans can experience meet and greets, live vibes, and "chop it up" with their favorite celebrities in a more intimate setting that you can't find anywhere else. The platform has interactive features where fans can ask questions in the comments, send likes, and even tip or donate towards the artist or event. I have used the Iconn app to host interviews for my new book, The Psychology of a Website. These ICONNic talks featured special guests like Ja Rule, Dorie Clark, and Carlos Gil. During these interviews, viewers dropped questions in the comment section, sent emoji likes, and tips. We raised money from these interviews and donated the profits to local Miami charities. Check out my ICONNic talk with Ja Rule to see how you can use the ICONN app:
When Iconn Live first came out in 2020, the app was only available for beta-testing, but recently it was released on the app store. Iconn is just hitting the market but will soon take off, so jump on the app and get it before it's hot. 
Bitclout is a social media network all about decentralization and cryptocurrency. The first of its kind, this social network allows users to have their Creator Coin, which friends can buy or "speculate" on. Of course, this wouldn't be a successful social network without celebrities and influencers; Bitclout allows you to invest by purchasing popular creators' coins. This social network is based on cryptocurrency, so as more people buy a coin, the price goes up. Bitclout has created a social market where you can "bet" on an influencer's popularity and watch the coin's value increase or decrease depending on the celebrity's popularity. The app allows you to profit from your investments and generate money from selling and growing the value of your Creator Coin. 
In its first month of launch, Bitcoin amassed "over $225 million in trade and has no sign of stopping its growth." Combining socialization and investing all in one app is Bitclout's formula for success. 
Clubhouse is part of the new wave of social media apps that have become "invite-only." Part of the reason the app has seen so much success since its release is the exclusivity factor. The app's main selling point is that any creator or celebrity can host a virtual room for live podcast-style discussions, thought-provoking conversations, and networking opportunities. You can join and "raise your hand" to participate in the chats or simply listen in. Clubhouse has become the place for socializing, especially since the pandemic limited the "real-life" interactions we could have on a day to day basis. 
Caffeine is a live streaming social media site that offers fast live streams of gaming, sports, and entertainment. The social network prides itself on its fast streaming services so users can watch live shows in real-time. Caffeine has interactive features where you can comment, upvote, @ your friends, and give props to support your favorite creators. Featuring top network entertainment like FOX Sports and ESPN, Caffeine has the potential to compete with Twitch, another social network popularized by gamers.
Caffeine can become a new entertainment hub for gamers, sports fans, and up-and-coming creators with its excellent streaming capabilities. 
Houseparty is another app that gained traction during the pandemic because when social interactions were limited, Houseparty allowed friends to video chat and play online games together. Socializing with your friends in a "house" with virtual party games is Houseparty's main appeal. The app lets you know when your friends are in their house, and if the "door" is unlocked, you can join the party. The app allows you to "lock the room" to have small game night gatherings with close friends or keep the door unlocked for larger parties to network and socialize. This app has a lot of potential to innovate the way we socialize, even post-pandemic. 
From Genghis Technologies, the minds of Tai Lopez and Dr. Alex created a new social app called Speakeasy. Speakeasy allows users to watch high-quality audio/video streams from their favorite content creators. 
Creators on Speakeasy can put on talk show-style live video podcasts and invite guest stars, while audience members watch along and interact through the comment section. Similar to Clubhouse, Speakeasy is an app where users can host live discussions but with the added feature of video. Content creators can build their own audience by engaging with followers in real-time through a fun Q&A-style panel. The interactive question and answer format allows users to build a genuine relationship with their audiences. Through your Speakeasy account, you can select video categories to follow creators based on your interest to curate a personalized streaming experience. 
Marketers can use Speakeasy as a way to build communities, engage in industry discussions, and gain audience insight. Speakeasy works for marketers by opening opportunities to interact with consumers and get honest feedback from real people.
The most popular social media app will always change depending on how we like to socialize and interact with our communities. Keep an eye out for new releases to always stay on top in the digital world. Now that you know the rundown of the latest apps with the potential to take over, create your profile and explore how each app can benefit you.
Matthew Capala is a seasoned digital marketing executive, founder/CEO of Alphametic, a Miami-based digital marketing agency, author of "The Psychology of a Website," dynamic speaker, and entrepreneur.
https://alphametic.com/wp-content/uploads/2021/07/Alphametic_BlogPost_6SMapps-e1626976701130.png
1076
1064
Matthew Capala
https://alphametic.com/wp-content/uploads/2021/01/Alphametic-Logo-Header.png
Matthew Capala
2021-06-08 20:11:47
2021-07-22 18:14:17
6 New Social Media Apps to Explore to Gain a First-Mover Advantage